Let's face it, owning a restaurant ca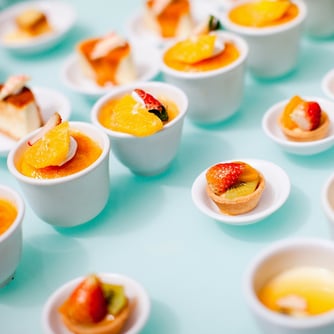 n be tough...
That's why developing a restaurant bookkeeping system that works is so essential.
As you're likely aware, the restaurant industry has very tight profit margins. And that's precisely why developing an efficient and accurate bookkeeping system is of utmost importance.
What's more, your restaurant bookkeeping system needs to identify and control issues such as theft, loss of inventory, and profitability.
Fact is, there are many challenges to implementing a restaurant bookkeeping system that works properly.
With over five years of experience in restaurant management and 10+ years of restaurant specific bookkeeping experience I have a great understanding of how a restaurant works; both from an operational standpoint and a behind the scenes "big picture" financial standpoint.
Here's the best advice I can offer on setting up a dialed restaurant bookkeeping system...
Use Your Restaurant P.O.S System As A Tool
If you use a point of sale (P.O.S) system for your restaurant, you need to use all the functions of the system. Take the time to work through the proper set up of your P.O.S system with the programmers. Learn the ins and outs of the system and figure out how to best use it for your restaurant.
Unfortunately, one major issue restaurants face is theft. Not only do restaurant owners need to worry about employee theft, but bookkeeper theft as well.
In my experience as a restaurant bookkeeper and manager I've witnessed it all; from employees stealing drinks and food, to employees being taken out in handcuffs due to massive fraud and theft.
Here's the deal...
Your P.O.S system can help control and minimize employee and bookkeeper theft. Simple anti-theft controls you can program in your P.O.S system include manager approval to open a cash drawer and apply a discount or comp to a ticket.
Additionally, you should use your reporting to tie out cash on a daily basis. If cash doesn't tie, something is wrong. You'll also need to understand and use certain reports from your P.O.S system, one of which is the daily sales summary report.
Daily Sales Summary
The daily sales summary report is an important report because it tells you everything that happened in your restaurant on a particular day; not only sales but payments and comps as well.
One of the more important things to understand on your daily sales summary is how to get that information into your accounting system so you can reconcile your accounts at the end of the month. The recording of daily sales seems simple but ends up confusing many owners and bookkeepers.
Here's the key...
You need to mirror what happens in your bank account.
Forget sales for a second and let's talk about payments. Payments typically come in the form of cash and check, credit cards and comps.
Your daily sales journal entry needs to match exactly to the manner in which these funds hit your bank account. If they don't, reconciliation will prove extremely difficult.
Depending on your merchant processor, your Amex deposits most likely post to your bank account separately from your Visa/MasterCard/Discover deposits. So you need to set up separate payment line items for each on your daily sales journal.
Now what about cash? When does it go in the bank? Is it when your customer pays you and you put the cash in the cash register?
No!
It's when that cash is taken to the bank.
What I recommend is keeping your cash register at a pre-set amount and having a manager tie out cash every night to your reports. Then I would deposit cash payments for a particular date range to the penny.
Handling cash payments is a good example of what the undeposited funds feature in QuickBooks was built for. If your P.O.S. system doesn't come with a daily sales summary that breaks out payments as you need them broken out, then you need to develop a custom report or have your P.O.S. provider customize a report for you.
Otherwise, your accounting system will not be accurate and you won't be able to reconcile your bank accounts!
As you grow into multiple restaurant locations, having this daily sales system in place will prove invaluable.
Importable Payroll Data
Payroll can be a massive pain for your restaurant or restaurant group. Depending on the number of employees, payroll can become a huge burden to account for properly.
I have three major recommendations regarding payroll for your restaurant...
First of all, set up a separate checking accounts for payroll. While I don't think having a separate bank account for your payroll is mandatory I have found it very helpful.
Secondly, outsource your payroll. I recommend outsourcing your payroll for just about any type of business. For the minimal cost of outsourcing your payroll you would be hard pressed to find a bookkeeper or accountant that can do it cheaper in-house.
And finally, have your payroll data be importable into your accounting system. Having payroll data that can be imported into your accounting system is absolutely crucial. Too many restaurants record payroll checks for the net amount as payroll expenses and call it good. There are so many issues with doing this, and one of those is either understating or overstating expenses.
You need to record payroll related issues by gross pay, employee payroll liabilities, and employer taxes at the very least!
Inputting payroll correctly into your accounting system through data entry is time consuming, costly and often inaccurate due to human error.
Develop an AP System
It's important to develop an accounts payable system for your restaurant in the early stages of the business before things become too complicated. If you have multiple locations for your restaurant group you may want to consider using the QuickBooks class feature to account for the expenses of each location.
Let me ask you this...
How often do you need to input bills so that you are looking at accurate expense reports? How often do you need to pay bills to keep your vendors happy?
Here's a tip...
A huge time saver is linking your accounting system to your bank and enabling bill payment through that same system. This will allow you to approve and pay bills directly through your accounting system.
Your banking institution will then automatically send a payment to your vendor without you having to cut a check, put it in an envelope, and put postage on it.
This simple trick can save you both time and money!
The most important thing with your AP system is to develop a clear and consistent process that keeps your vendors happy and your reporting updated enough to satisfy the restaurant owners and investors.
Restaurant Bookkeeping Reporting
I can't say this any more bluntly...
Restaurant reporting is crucial to the success of your business.
You must develop a set of reports you can review on a regular basis. Some reports you need to look at every day or every week, while others you only need to review once a month or quarter. Whatever the case may be, it's important you review your reports on a consistent basis.
Of course, you also need to be sure you're looking at accurate information. And the only way to ensure the information is accurate is to make sure all of your accounts have been reconciled.
What's the best way to do this?
All of the steps we just talked about need to be carried out accurately, and in a timely manner, in order for your restaurant reporting to be error-free.
Here's a quick recap of those steps...
Everything starts with a daily sales journal entry. Then you need to develop an AP system and a way to get your payroll data inputted accurately. If all of these steps are carried out correctly you can then reconcile all your accounts. Once your accounts have been reconciled you can be sure you are looking at accurate reports.
Friends, do yourself a favor and develop a reporting system and reporting schedule that works for you. Good reporting procedures will keep your restaurant on track and profitable!
Like many businesses, I feel the most important part of the restaurant bookkeeping process is reconciling. Account reconciliation is only possible if all the steps in the process are carried out efficiently and accurately.
The biggest hang up I typically see with restaurants is getting the daily sales summary report into a format that allows for bank reconciliation. If you record all credit card payments as one lump sum you will soon find out that reconciling your bank account is impossible.
As you can see, there are some tricky curves to be navigated when it comes to restaurant bookkeeping. Let the pros at Salt Lake City Bookkeeping do the heavy lifting for you!
Fact is, developing a restaurant bookkeeping system early on in the life of your business will make growing your business both feasible and smooth!
Until Next Time,
Matt Roberge
Salt Lake City Bookkeeping