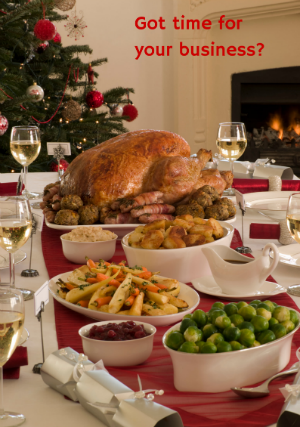 Ahh the holidays are upon us. I typically equate the day before thanksgiving as the official start to the holiday season. It can be an overwhelming time of year on a lot of different levels. You need to make time for your family, try and shop without getting trampled, all while continuing to run your small business.
I often see small business owners take a step back or try and slow things down during the holiday season. With good reason many people tend to put an emphasis on their family rather than focusing on their business during the holidays. I totally get that and try and do the same.
However, ignoring your business and not finishing the year strong is like running a marathon and quitting with a half mile to go. I try and wrap up all of my important business issues by December 15th each year so I can focus on my family for the rest of the year. I spend most of my time working on strategic planning for the following year, tax planning and estimates, as well as any last minute tax moves I need to make. Getting all of this done before year end allows me to focus on growing my business come January.
Many business owners do not follow my mentality. Some business owners wait until January to wrap up their books and get a tax estimate. This is a huge mistake because there is little that can be done from a tax standpoint once the calendar has turned to a new year. Business owners that take this approach spend January getting caught up rather than focusing on making the new year their best year ever.
Next month I will be featuring content around how to find the time for your business during the holidays. I will be giving tips on not only finding the time, but also what activities you should be focusing on. Before I wrote that content I wanted to hear from our readers.
Do you make time for your business during the holidays or do you try and slow down and take a break?
If you do finish your year strong what activities do you focus on?
If you neglect your business during the holiday season what activities do you wish you could get done? Do you think taking a break during the holidays hurts or helps your business?