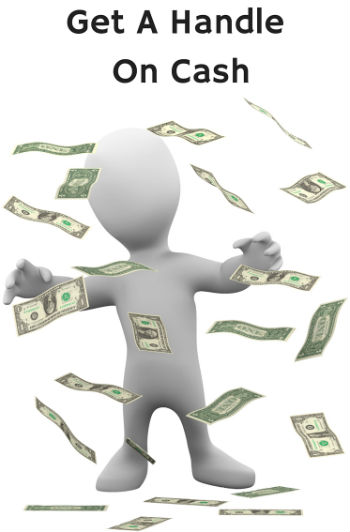 Cash is king, but many businesses fail to put the proper bookkeeping procedures into place when handling cash. Business owners tend not to take care when handling cash payments and disbursements within the business; however, that does not sit well with the IRS. Weak bookkeeping systems that do not use the correct procedures for handling cash are also very vulnerable to internal theft. If your bookkeeping system is set up properly it can ensure that your bookkeeper is not stealing from you. I'm going to focus on handling cash payments from customers and cash disbursements out of the business, which is essentially petty cash.
Cash Payments From Customers
Cash payments will either come from a customer to pay an invoice or they will be from several customers and are part of your daily sales summary. Either way, you want to handle them in the same fashion. If you are using QuickBooks and you receive a payment against an invoice in the form of cash, then that payment goes into the Undeposited Funds account and shows up in the "Record Deposits" window. If you are recording sales off of a daily sales summary, you should link the cash payments to the "Undeposited Funds" account in the journal entry. This procedure will accomplish two things for you. One, it will set up a system that allows cash to be tracked accurately so that you can make sure all the cash is ending up in your bank account. Two, it will also allow you to take a group of cash deposits to the bank and make one lump deposit for several invoice payments or several days' worth of cash payments from your sales summary.
Petty Cash or Cash Reimbursements
Many businesses keep a small amount of money on hand to pay for expenses that can't be paid by a check or credit card. An example of this might be a reimbursement to an employee who picked up business supplies on the way to work and paid with their personal funds. Another example may be a product that is delivered and can be paid by Cash on Delivery only. The petty cash amount should be a set amount and should be able to be balanced out each time the replenishment of cash is needed. Set up a petty cash bank account to track these funds. Another option is to set up an offline tracking system and then cut a check to replenish the petty cash back to its starting balance. Attach copies of receipts to the check stub and you have a very clean and traceable petty cash system. It is not a good practice to replenish petty cash from customer cash payments.
Summary of How to Properly Handle Cash
All cash payments should be physically deposited into the bank account to match your sales records.

Petty cash reimbursements are best accounted for by a separate account or by actually cutting checks for the reimbursement.

Do not take a portion of your customer cash payments to replenish petty cash. This is a poor business practice and you want to keep cash deposits and petty cash separate.
By following these procedures, you will have a system in place for handling cash that is traceable. At any point in time, you will be able to prove to the IRS that you are handling cash correctly and you will be able to prove to yourself that there is no internal theft going on.
Photo Credit: Canva