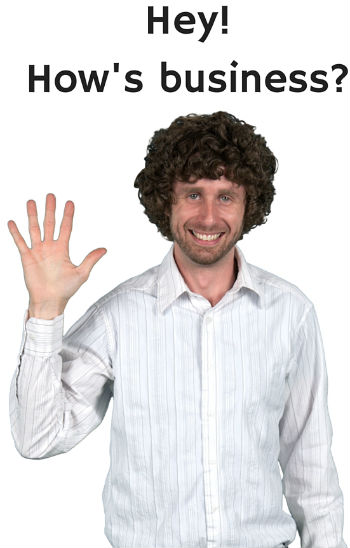 As a small business owner, you hear this question all the time: How's business? A very typical response is: Great, but I'm just so busy. Most business owners are just busy being busy, but I wonder: How many of them know how their business is actually doing? I will explain how an outsourced bookkeeping service can actually help you understand how your business is doing.
Create a Vision
You may be wondering what a vision has to do with your business performance. I would argue that your vision is everything; it is the end goal of your business. It is why you get up every day and work so hard.
Creating a vision statement for your business is an important step. How will you know how you are doing if you don't know what you are trying to accomplish?
Communicate Your Mission
A company mission is different from its vision. As Business Dictionary puts it:
"A mission is different from a vision in that the former is the cause and the latter is the effect; a mission is something to be accomplished whereas a vision is something to be pursued for that accomplishment."
Not only is it important to have a mission, but it is also important that you communicate it throughout your organization. Doing so will keep you and your entire team aligned toward accomplishing your goals.
Develop an Exit Plan
How can an exit plan help you know how your business is doing? While an exit plan is a much larger piece of the strategic puzzle, it is an important one. An exit plan allows you to stay focused on the much bigger picture. While a vision and a mission are critical to how business operates day in and day out, an exit plan can help bring clarity to the overall goal.
It is important to review your exit plan from time to time. I don't like to put a specific number on it, but I would say that 2-3 times per year is sufficient. Reviewing your exit plan will help you stay on track with the big picture.
Create a Long-Term Budget
OK, we are finally getting to the bookkeeping or numbers part of this article. When someone asks: "How's business?" How can you answer if you don't have a system in place with your financial goals?
You should develop at least a few different budgets: a budget for the next 12 months and another for the next 3-5 years. The budget should remain unchanged throughout the year and should be re-evaluated at the end of each year.
Create a Short-Term Forecast
A short-term forecast is probably one of the most crucial tools we use to run our business. A forecast differs from a budget in that it changes throughout the year, where I like to keep a budget unchanged.
I prefer to create financial forecasts in shorter increments; typically 2-3 months out.
When I create a forecast for our business, I try to think about three things: What just happened? What do I think will happen? Why do I believe this?
That is a pretty over-simplified version of what I do when I create a forecast, but I like to keep it simple. If you have a solid bookkeeping system in place, then you should know your actual results. You should have a decent handle on your sales pipeline and expenses. Then you just have to think about anything out of the ordinary and create a forecast. The forecast tends to be more accurate than the budget because it is more short-term and easier to predict.
Compare Financial Expectations and Actual Results
This last step is the most crucial piece to understanding how your business is doing. I also call this step measure and pivot as needed.
As your day-to-day business unfolds, you should be doing a comparison of your actual performance against your expected results. While the budget versus actual is a great way to measure your performance, the forecast versus actual is what I concern myself with the most.
Since the forecast is a more short-term expectation, it is typically more accurate. Therefore, when I measure against the forecast, I'm looking for smaller variances, if any (and hey, if sales are higher than I thought then great).
The forecast versus actual allows you to spot potential shortcomings earlier and make the necessary adjustments to stay on track.
Determining How Business Actually Is
So how can you take this information to help you give a better answer to the question: How's business? First of all, if you are missing any of the above items like a vision, exit plan, and a forecast you should develop those right away.
Next, once you have all of these items in place you need to review them regularly to assess how you are doing.
Do the daily actions of your business support your vision and mission?
Are you still on track to implement your exit plan when the time is right?
Are there some big fluctuations in your budget versus actual or are you staying on track?
Are you keeping up with or exceeding your forecast? If not, can you explain why and are you OK with it? Do you still feel confident in where your business is going?
If you follow these steps you will be able to answer the question of "How's business?" with much more confidence because you will be basing your answer on data, not a feeling.
So, how's business? Want to give a better answer to that question?