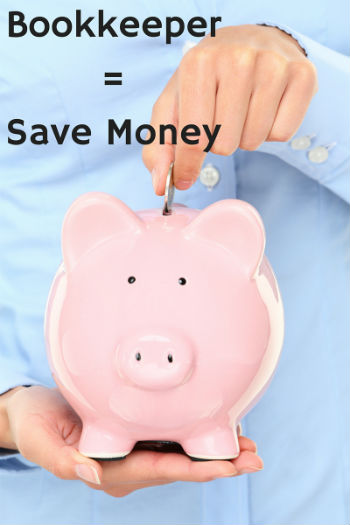 If you are looking for a good way to cut costs in your small business, then hiring a bookkeeper should be the first thing that you consider. Many business owners don't realize how much money they are losing because they don't have a good financial tracking system in place. In addition, a decent bookkeeper provides the foundation that you need to save money and improve cash flow.
Some business owners hesitate to hire a bookkeeping service because they are worried about the monthly costs of the service. But the truth is that the cost of a bookkeeper is much less than the amount of money that you will be able to save throughout the year.
Do you have a bookkeeper? If you don't, then it is likely that you are losing money in five ways:
1. Team Accountability
When your team knows that the transactions are being monitored, then they will be more cautious with their spending. A bookkeeper manages your expenses and income every month, helping you to identify potential issues that might be occurring. By closely tracking each transaction, you will be able to save money by decreasing the potential for both extravagant spending and theft within the company.
2. Reducing Errors
How much money have you lost over the years as a result of financial errors? It is possible that you have been handling your financial information incorrectly, resulting in errors in the way your income and expenses have been tracked. A bookkeeper saves you money by avoiding the errors that are costing you even more.
3. Avoiding Late Fees
Most business owners are very busy with their responsibilities, making it easy to forget to send out payments for bills that are due. Every time a payment is missed, you spend more money on late fees and interest costs. A bookkeeper helps to decrease these fees by ensuring that all of the bills are paid in a timely manner.
4. Outsourcing vs. Employees
If you compare the numbers, you will see that it is usually cheaper to outsource the financial management of your company instead of hiring an employee to do it. With an outsourced bookkeeper, you don't have to pay for the costs of benefits, employment taxes, or any of the other expenses that pop up when you have an employee.
5. Free Up Your Time
Did you know that you might actually be losing money by spending your time on things that can be easily outsourced? Instead of focusing your time on tasks that will help the business grow and expand, you are filling your day with tasks that can be cheaply outsourced. Stop worrying about the small transactions and busy work, because you need to be focusing on the other tasks and management that will propel your business to higher levels of success in the future.
Do you want to learn more about how you can save money by hiring a bookkeeper?