Outsource Your Bookkeeping With SLC Bookkeeping
Are you tired of spending your free time reconciling your books, but you don't want to spend a small fortune hiring an expensive full-time CFO or controller? Get in touch with SLC Bookkeeping. We're the outsourced bookkeeping service that provides your business with accurate, timely back office functions, from basic project management to complex strategic planning. We've helped hundreds of businesses get and stay on track so they are better able to reach their goals. Secure part-time, outsourced bookkeeping with a full-time presence and learn more about SLC Bookkeeping.
Design an Accounting System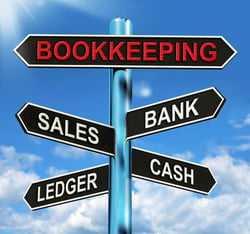 Get your small business off to the right start with SLC Bookkeeping's outsourced services. Our financial professionals can design an accounting system that meets your current needs, but is able to grow alongside your company. Outsource your bookkeeping and let us create your chart of accounts, establish accounts payable and receivable policies and procedures, design a payroll system and more. One of the benefits of outsourcing bookkeeping is that when the time comes to secure financing or investors, you'll have all the systems, controls and reports in place you need to make better decisions and impress your potential partners.
If you already have systems and controls in place but need help with QuickBooks, call us. SLC Bookkeeping's outsourced bookkeeping service is QuickBooks ProAdvisor certified, which means we are qualified to troubleshoot your most complex operational challenges. Our professionals can give you the insights you need to keep your back office running smoothly. Outsource bookkeeping services with SLC, and your reporting will stay error-free, all year long.
Get Caught Up
It happens to the best of us. Times get hectic, and recordkeeping efforts slide. Don't spend your valuable free time managing reconciliations and comparing cash flow to receivables — call SLC Bookkeeping outsourcing services instead. Our professionals are the reconciliation and project management experts. We'll make sure your records are accurate and easy to understand, giving you the stepping stones you need to make better decisions. Outsourcing bookkeeping lets you catch up on back paperwork and focus on meeting the needs of your customers at the same time, affordably and effectively.
Customized Reporting and Documentation
Does your business need customized reporting for your next important transaction, tax return or acquisition? Outsource your bookkeeping and get accurate, timely reporting. SLC Bookkeeping can create the financial reporting tools you need to make better decisions. Gain important insights through a clearer cash flow statement or variance analysis, or create a budget and forecast that makes sense for the way you do business. SLC Bookkeeping can help, whether you need daily, weekly, monthly, quarterly or annual reporting.
Many businesses find they need special documentation or reporting before engaging in a merger, acquisition, sale or partnership. SLC Bookkeeping manages day-to-day back office functions, but we also provide guidance for more complex challenges. Get in touch with SLC Bookkeeping, and we can furnish the timely and accurate documentation you need to satisfy your partners and investors.
Learn More
SLC Bookkeeping is available to review your business's needs and provide you with a free quote.
Get in touch with us by calling (385) 202-4915.