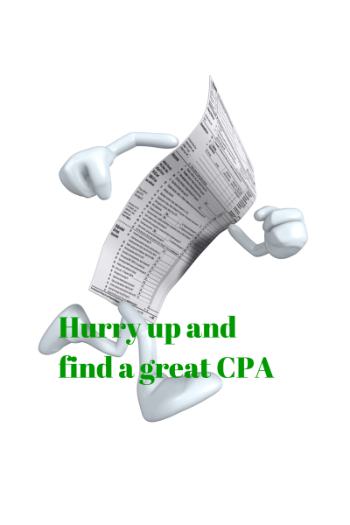 If you don't currently have a rock star CPA, you need one right away. When we are dealing with a new SLC bookkeeping client, one of the first things we ask them is whether they have a CPA. If they do, we get their contact info and if they don't, we ask them if they want a referral to one of our trusted CPA contacts. I have learned through my own experience and in working with our clients that a solid CPA is critical to the success of your business. Here are five reasons you need a great CPA.
Business formation
When you are starting your business, you should consult with your CPA on the best entity type for your business. Don't immediately jump to the conclusion that an LLC sole proprietor is the best entity type for you. There are many tax consequences and advantages to the various entity types, so you want to discuss the options with your CPA. Make sure to include your lawyer in the discussion to correctly pick the entity type with the legal protection that you need that also offers the best tax advantages.
Tax planning
Don't wait until March each year to meet with your CPA. There is little they can do for you at that point, except file your taxes. You should meet with your CPA toward the end of every fiscal year, before the calendar turns. When you meet with them, be sure to bring them an updated bookkeeping system with current financial reports. We at SLC Bookkeeping don't believe in the term year-end bookkeeping; we believe you need to keep your books updated each day, week, or month at the very least.
I typically meet with our CPA in early December of each year. During this meeting, we look at financial reports and I get a tax estimate of what is due or what will be refunded. Then we talk about the various options of what we can do from a tax perspective before the year ends.
Tax issues
At some point, you will most likely have some sort of tax issue and having a CPA who goes to bat for you is invaluable. Your issue could be an inheritance, an audit, or a missed payroll tax payment. No matter what problem you face, you want a CPA who is proactive and willing to help. Those IRS tax letters can be scary if you don't know what they mean. Many are harmless and only require a simple communication with the IRS. When you encounter any tax issues, make sure your CPA handles them, not you. You want a good CPA in place before you have any tax issues; you don't want to be scrambling to find a reputable CPA when you need them the most.
Retirement planning
You CPA should be an integral part of your retirement planning, just like your financial advisor. Your financial advisor can help you to set retirement goals and then develop a plan to meet them. One aspect that retirees often overlook is the tax side of retiring. Creating an environment with an open dialogue between your financial advisor and your CPA will ensure that your retirement is handled by professionals. You don't want to get a few years into retirement before you realize that you can't stay retired.
Ask questions
Finally, you need a CPA who will answer your questions. We often use the QuickBooks ask my accountant ledger for things we need to run by the CPA. There are certain transactions that you just want to be sure are handled appropriately or that require feedback. Keeping them organized in one place will make the most of your CPA's time.
You need a CPA who knows you on a pretty personal level; someone you can trust. Being able to ask questions of your CPA firm is important. It is also important that they truly know you and that you truly trust them.
OK, my CPA friends, I know you have some things to add so....
What are some other reasons you need a great CPA?