Customers are the lifeblood of every business. And in today's highly connected, review-driven world, your company's reputation with past and potential clients plays an integral role in its long-term success.
With unlimited choice at their disposal, many customers are choosing to forgo the lowest price for the goods and services they want in favor of a more satisfying buying experience.
In fact, 7 out of 10 U. S. consumers say they've spent more money to do business with a company that delivers great service.
If you're hoping to see your business grow, it's well worth taking the time to understand what your customers really want.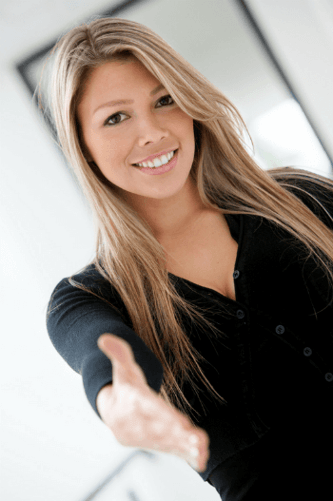 Ensuring client happiness and encouraging customer loyalty can be distilled down to two essential factors:
the consistent investigation and delivery of what's most important to your customers, and
the quick and satisfactory resolution of any problems they may encounter
The secret to improving customer retention is all about the quality of the customer service your business provides.
It's simple: the more satisfied your customers are, the more likely they are to not only continue to buy from you, but to recommend your goods or services to others.
Understanding and Measuring Customer Satisfaction
Particularly disgruntled customers are the ones most likely to share feedback in online reviews or through social media.
With as many as 95% of customers sharing their negative customer service experiences with others, your business simply can't afford not to do everything in its power to encourage customer feedback that's as glowingly positive as possible.
Making customer satisfaction a priority is the key to:
maximizing your company's marketing budget to draw in new customers
recognizing and reaching out to dissatisfied clients to reduce customer turnover
boosting company revenues
So how do you figure out if your customers are happy? You start by giving them the opportunity to express themselves.
Regularly engaging your customers through satisfaction surveys that encourage open-ended responses is a great way to uncover vital information about every aspect of your business process – from the quality of your products, to the viability of your shipping and return policies.
And when you combine the results of your surveys with a well-established set of customer satisfaction metrics, you'll be well-equipped to track the overall health of your business.
Customer Satisfaction Score
The CSAT is a simple way to measure how happy your customers are with the services they've received from you. Customers rate their satisfaction based on a small range of numbers (from 1 for very dissatisfied to 5 for very satisfied, for example), and your company's score is determined by averaging the results.
Customer Effort Score
The CES measures how easy it was, or wasn't, for your customers to have a product or service issue resolved. This is a particularly important metric because studies like those conducted by the Customer Contact Council demonstrate that customer loyalty is directly related to reducing customer effort.
Your customers select a number from 1 to 7 that best represents their level of effort in getting their problem fixed – from a very low amount to very high – and your company averages the results.
Net Promoter Score
To help predict your customers' level of happiness down the road, the NPS measures how likely they are to recommend your company to a friend.
This score, most often based on a range from 1 to 10, is a great way to evaluate customer loyalty and it can also help to predict the future growth of your business. To obtain your company's score, you'll deduct the percentage of non-promoters (typically scores of 1-6) from the percentage of promoters (scores of 9 or 10).
Measuring and Improving Customer Retention
Once your customer satisfaction metrics are up and running, you can move on to evaluating the success of your various customer service efforts, responses, and adaptations. Customer retention metrics allow you to determine how many of your past customers are sticking around to make repeat purchases.
Research confirms that it's far less expensive to retain a customer than it is to acquire a new one, so your business return on investment relies heavily on making sure you keep your current clients smiling and coming back for more.
Measuring your Customer Retention Rate at least monthly, quarterly, and annually is the best way to benchmark your company's performance in terms of how well it's hanging onto its clients.
The CRR is measured as a percentage, and by plugging some basic information into a simple formula, it can show you how many customers your business retained within a specific period:
Customer Retention Rate = [(EC-NC) / BC] x 100
Where,
BC = the number of customers your business had at the beginning of the month or year
NC = the number of new clients you gained during the same period
EC = the total number of clients you had at the end of the same period
Remember, measuring and analyzing alone aren't enough. Your business must respond to what it learns from its clients – especially the dissatisfied ones.
While it can be difficult to face criticism, negative feedback is a great opportunity to understand where your company could be doing better and to take steps to make that happen.
Your customers want to know that their input is being heard, and the more your business can do to convince them of how highly they're valued, the better it will be for your company's bottom line.