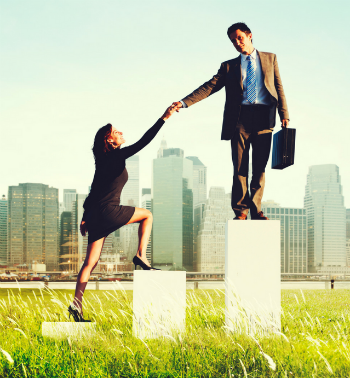 The terms bookkeeping and accounting are often used interchangeably, but there are some key differences that distinguish one from the other. While both functions play essential roles in managing your company's finances, it's important to understand the nature of their relationship, and how bookkeeping and accounting ultimately work together to ensure the success of your business.
In any commercial venture, the ability to flourish often comes down to how organized your financial records are. But creating a fertile environment for business growth extends well beyond the balancing of a checkbook.
Accessing and utilizing your company's financial reports is essential for devising a practical business strategy. So while bookkeeping focuses on the timely and accurate recording of financial transactions, accounting is all about interpreting and analyzing the report data generated by those transactions.
The Bookkeeping Function
Keeping a complete and organized set of books for your business lays the foundation for effective accounting. The bookkeeping process typically revolves around the chronological (and usually daily) recording of all your financial transactions and includes:
the use of a general ledger to log (or post) the details of your sales, expenditures, and their associated bank transactions,

the creation of customer invoices, and

the processing of employee payroll
Thanks to accounting software that makes it relatively easy to generate financial reports, there's often some overlap between bookkeeping and accounting duties in today's business environment.
The Accounting Function
The best reason to keep your company's bookkeeping under control is for the dramatic benefits it provides when categorizing and interpreting all that financial data. Accounting is essentially:
the language that allows you to comprehend, discuss, and extrapolate on information about your company's resources,

a valuable method for determining where your business stands financially at any point in time,

the process that makes it possible for your company to prepare key tax and other financial documents, and

the most effective way to shape and measure your company's progress in terms of growth and financial success
By creating what is fundamentally a financial roadmap for your business, accounting allows you to transform your bookkeeping records into an actionable and adaptable business plan.
Bookkeeping and Accounting – Partners in Success
It only makes sense to leverage the natural synergy between bookkeeping and accounting to achieve business success. And the best way to do that is by investing in in-house or outsourced accounting professionals - and by taking a certain amount of ownership over your company's financial functions.
While it can be tempting for busy entrepreneurs to leave financial matters in the hands of a specialist or two, making the time to review, understand, and act on the information in your accounting statements is vital for long-term success.
You might want to consider hiring a full time Certified Public Accountant to serve as your company's CFO, but outsourcing this role often provides more flexible and affordable options. In fact, many business strategy experts have the capacity to shoulder multiple financial responsibilities within your organization.
Either way, working in conjunction with a qualified bookkeeper, accountant, and business analyst will enhance your company's performance by giving you the information you need to make the best decisions for your business. Just be sure to look for a solution that:
streamlines your company's bookkeeping tasks,

allows you to access your summarized financial data whenever you need it, and

provides you with seasoned and appropriate advice on how to use that data to make your business better
Timely reporting and payment functions that help you perform and track financial transactions are key. But to consistently move forward and court expansion, you need to review and manage your company's balance sheet, income statement, and cash flow statement on a regular basis.
Making a Statement with Your Business
Effective accounting starts with designing financial statements that tell your company's full story – whether that story is intended to play a role in your budgeting, forecasting, and acquisition efforts, or in your exit strategy.
Do you know how much your business is worth today, and what its value might be months or even years down the road? Your accounting professional does. And that knowledge is gleaned from the creation and analysis of the various financial reports that demonstrate your company's:
cash and investment position,

inventory and real estate holdings,

accounts receivable and payable status, and

liabilities and owner's equity position
Bookkeeping and accounting functions go together like peanut butter and jelly. And when you sandwich them between professional services like business consulting and mentoring, you have the makings of a highly promising commercial endeavor.
Photo Credit: Canva