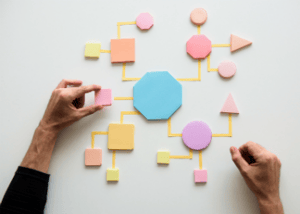 There are a handful of important functions that drive the average small business, including strategy, marketing, finance, and operations. Your success depends on creating and growing a company with a thorough understanding of all of these elements. But today we'll focus on the 4 key areas of operations you'll want to pay close attention to.
What Are Business Operations?
Your business operations include any practice that helps you produce and deliver your product or service. But most initiatives will involve your systems, processes, technologies, or personnel. These four main areas keep your business running smoothly and allow you to generate income.
Successfully managing your business operations is all about turning materials and/or labor into the goods and services your customers buy - as efficiently and profitably as possible.
But remember that, while individual business owners often excel at donning the many hats needed to carry out most operational tasks, you should be wary of getting so bogged down working in and for your business, that you neglect to work on it as well.
Delegation, as always, is crucial where practical.
1. Your Systems
Operational efficiency should be one of your biggest goals as an entrepreneur. To accomplish it, many companies take advantage of the lean systems management concepts that originated with the manufacturing industry.
As the name implies, a lean system is a collection of processes or chain of events that helps maximize productivity (goods created or services provided) in the shortest time - and with the least waste - possible.
From assembly lines to service provision, there are many ways to improve your output by tweaking the steps involved. But managing your business systems effectively also means fine-tuning the balance between meeting customer demand and remaining flexible enough to adapt to the evolving needs of your market.
2. Your Processes
As the ordered steps that make up your systems, business processes essentially help you accomplish a production goal. Most service-oriented organizations, for example, operate with the help of a clear-cut sequence of activities that lead them from sourcing a client to closing a sale.
Key ways you can optimize your operational processes include:
looking for ways to multi-task or cut back on work duplication, especially with the help of technology or specialized equipment,

trimming out extraneous steps, and

documenting your processes for the purpose of both improving them and training new staff
Remember, the more defined and relevant the individual steps, the more efficient and productive your business processes will be.
3. Your Technology and Equipment
Much of a company's operations today rely heavily on leveraging technology or equipment - whether it's for manufacturing goods, transporting or otherwise delivering a finished product or service, or communicating and marketing to customers.
Efficiency considerations in this area are most often related to:
examining and comparing the costs of purchasing vs leasing certain types of production or office equipment,

outsourcing appropriate tasks (think website management, digital marketing, logistics) to outside professionals, and

reexamining your business location and the need for facility expansion
You should recognize that a good deal of your time may be spent balancing various resources like equipment and personnel with your operational budget.
4. Your Employees
The process of hiring and managing staff - along with the question of whether to even go there in the first place – is often littered with indecision and waste. To begin with, too many business owners balk at the extra expense without taking the time to compare costs with any projected increase in output.
It's important to think about:
What skills and turnaround times your business processes demand

How many qualified team members you ideally need to keep your systems humming efficiently
If you do have or decide to take on employees, it's vital that you invest in them as you would any other business asset. Put some effort into attracting and hiring the right candidate for the role, then take steps to provide them with the training and leadership they need to stay focused and motivated.
Examining, planning, and implementing best practices for business operations requires your ongoing attention. But reassessing these areas from time to time – and studying the results of any changes or improvements made - is just as important for long-term success.
In the interests of quality control, consider looking to examples set by other high-functioning businesses inside your industry for help with mitigating product or service imperfections, advancing your work flows and communication channels, and preventing little operational inefficiencies from ballooning into major – and often costly – mistakes.