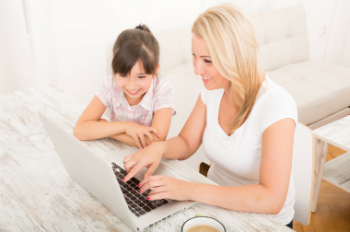 If you're a stay at home mom who wants to bring in extra income for your family, you'll be excited to learn that there are plenty of opportunities out there! In fact, all you have to do is a little digging to uncover really inspiring business ideas for stay at home moms.
Even if you've never started your own business before, you can be successful as a stay at home "mompreneur." Try any of these five ideas, or use them as springboards to create a fantastic, lucrative at-home company.
#1: Become a Freelancer
Do you have a professional degree or a professional skill set? Using the contacts you already have, you may be able to work out of your house as a freelancer. For instance, if you're skilled at tax preparation and have the licensing to prepare income tax, why not let friends, family members and former colleagues know? That way, you can help them while still staying at your house and working around your kids' schedules.
#2: Take Care of Other Youngsters
If you're already taking care of your own children, and you like being around young people, you may want to start a daycare in your home. You'll need to go through some legal channels to ensure that you have all your licensing and are following local regulations, but once that's finished, you can set your own rates. Parents everywhere are looking for daycare professionals who will take great care of their kids. Could it be you?
#3: Express Your Inner Creative
Are you a creative at heart? Do you love to sew, paint, make jewelry or do something else that's unique and innovative? Creativity abounds on the internet, and many people actively seek out items that are completely one-of-a-kind. Starting your own Etsy or eBay storefront could be a way for you to get income and showcase your creative talents.
#4: Offer Lessons
Do you have something you can teach others, such as piano, singing, yoga, Pilates, personal training, etc.? You can work from home and offer lessons in your spare time. The benefit to this type of at-home business is that you'll be able to have complete control of your schedule. Never miss a child's basketball game or school play, and still have a growing business.
#5: Start a Food-Related Company
Did you know that many food-related businesses started in home kitchens? If you're a creative cook or baker, you could parlay your interest into a company that begins right in the busiest room in your house! Selling food does require legal paperwork and certifications, so make sure you look into everything before putting your goodies up for grabs.
Love the idea of having a business but hate the paperwork? Remember that a virtual bookkeeper is a cost-effective way to stay compliant. Become the stay at home mom and business owner you always imagined, and let someone else do all the bookkeeping!