Bookkeeping for a restaurant group that has different locations and different restaurants under it can be tricky. There are tight margins to maintain. In addition, spoilage, theft, and inventory must be controlled to maintain profitability. In order to do this, the books must work like a well-oiled machine. There can't be any flukes or the whole machine is compromised and margins decrease. Here is a set of guidelines you can follow to make sure that every restaurant under a restaurant group is controlled in a way that improves its chances of success.
Chart of Accounts, First
The chart of accounts is very important. This is what's going to generate categories for expenses and income; it will also determine how reports look. It's important to avoid over-complicating the chart of accounts. If it's complicated, generally the reports will not be understandable, and an owner may have difficulty figuring out what all the numbers mean. Here are our recommendations for a restaurant:
Food and beverage - separate income and cost of goods sold into food, alcoholic beverages, and non-alcoholic beverages. This means that food and beverage ratios can be computed a little bit easier.
Labor costs - this is one of a restaurant's highest expenses. Keeping close track can help cut labor costs and manage how it's affecting the bottom line.
Using the POS System as a Tool
Proper set-up of the POS system takes a long time. However, the amount of time that it takes to set up is completely worth it. Knowing the ins and outs of the system means that the reports produced all outline key metrics that the business has deemed important. Having the right information is worth more than having a lot of information.
Many restaurants experience theft. Having a system that is reporting correctly can help keep track of daily deposits from the register to the bank. If the cash reports don't match, something is wrong. The daily sales summary report can be a good report to check every day to make sure theft has not become a problem in a restaurant.
What Is a Daily Sales Summary?
The daily sales summary report tells you everything that happened in your restaurant on a given day. This includes not only sales, but payments and comps as well. More importantly, it's also a reflection of how you are being paid. Payments come in as cash, check, credit cards, and comps. The daily sales summary needs to be in balance every day, or reconciling the books and getting accurate information from QuickBooks will prove to be very difficult or even be unsuccessful. Without the proper information from QuickBooks, your company may be losing money without even knowing it.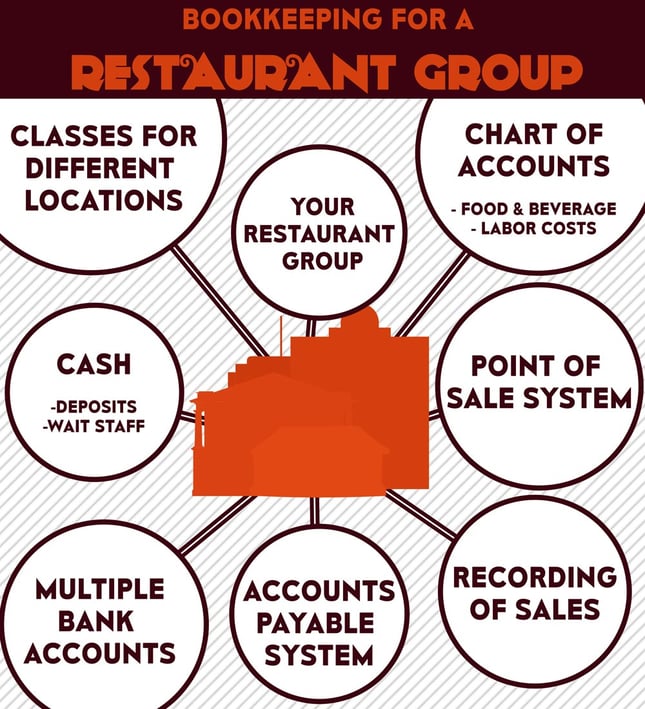 Accounts Payable System
Managing the accounts payable system can be a huge task for a restaurant, especially for owners who have restaurants with multiple locations. To make sure that bills are being entered correctly:
Send all paperwork to one main location;
Input all invoices into QuickBooks;
Use a bill pay feature synced with QuickBooks to pay bills.
As a precaution, you should never let a bookkeeper have the ability to sign checks and send a bill pay. This offers too much of an opportunity for theft. Instead, allow them to create the checks and print them, then have the owner sign off.
Multiple Bank Accounts
Having multiple accounts should have a purpose. Here is our recommendation: In a restaurant with several locations, separate accounts into operating checking, payroll checking, and a general savings account. All cash and credit card deposits from the various locations go to the operating account. Then, manually move money from the operating account to the payroll account as needed. Finally, have a savings account for additional funds, and link it to the operating and payroll accounts as overdraft protection. If the savings account can't be used for overdraft protection, then set up a credit card that can offer overdraft protection.
Having multiple locations of a restaurant can be difficult, but keeping the management of cash flow in check can ease the pain. Taking into consideration the suggestions we have made, along with hiring a bookkeeper who has restaurant experience, can help make the cash management of the restaurant group easier. It all starts with making sure the chart of accounts is set up correctly in the beginning.