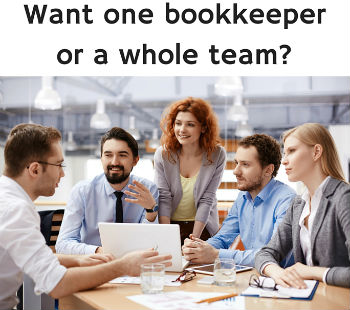 When you assess your business accounting needs, you have some choices: ignore them, do them yourself, find an outsourced bookkeeping service, or hire an individual.
Certainly, each of these options has pros and cons. As a small business owner, I'm sure you have tried more than one of these options to meet your business accounting needs.
When your business is brand new, there is a tendency to ignore your bookkeeping because it doesn't seem important. Then, the next logical step is to attempt to handle your own bookkeeping to try and save money.
However, as time goes on, you will most likely realize that you should not be worried about handling your bookkeeping, but instead you should be focused on growing your business.
This leads us to the dilemma of whether you should hire a bookkeeping service or an individual accountant to handle your bookkeeping needs.
Below are the reasons I feel that most small businesses would benefit from using a bookkeeping service for their day-to-day accounting needs.
A Service is Never Absent
One of the biggest advantages of using a bookkeeping service is that they are never absent. According to salary.com, in one year, employees average 14 paid days off per year (sick, vacation, personal, etc.) and 10 federal holidays. That is almost an entire month where you are left without a bookkeeper if you use an individual.
The other issue with using an individual bookkeeper compared to a service is that there tends to be higher turnover with individuals. Individuals quit, where it is rare for a bookkeeping service provider to terminate their contract with a customer.
An Entire Team of Professionals
Another benefit of using a bookkeeping service is that you get an entire team of professional bookkeepers, not just one person. A service typically has a group of specialists who can help you in different areas. You can have a general bookkeeper as well as a person who helps generate budgets and financial forecasts, plus a CFO-level person who can help you interpret financial reports and advise you on critical business pivots.
While you might get one person who can do all of the above tasks, they will most likely be a CFO-level person. If you are going to employ them full-time, you will pay quite a bit of money for that individual. According to Payscale.com, on average, a CFO in the United States earns $122,000.
A good bookkeeping service can provide you with the high-level accounting services that you need at a fraction of the cost of an individual who has the necessary skill set.
Outsourcing your bookkeeping can save you money in the long run and you will only pay for the amount of service that you require. At SLC Bookkeeping, we tell our clients that we are part-time bookkeepers with a full-time presence.
Confidence in Reports
Another benefit of using a bookkeeping service is that you will have greater confidence in your financial reports. If you have just one bookkeeper at your office doing the work, you may not have anyone in place who has the skills to check their work.
With a bookkeeping service, you will gain more confidence that the reports you are reading are accurate due to the fact that they are double-checked. All of our customers' books are handled by a bookkeeper and then reviewed and signed off on by both a senior bookkeeper and our COO.
Having confidence in your financial reports allows you to make better business decisions in less time.
More Time to Focus on Growth
When you use an outsourced bookkeeping service, you should be left with more time to focus on growing your business.
You won't have to worry about your bookkeeper not being available because they took a day off or are out sick. You can be sure that your reports and your bookkeeping are accurate because you have an entire bookkeeping team, not just one person.
A bookkeeping service will give you the peace of mind that your books are accurate and you can focus on growing your business.
What has been your experience with using an accounting service versus an individual?