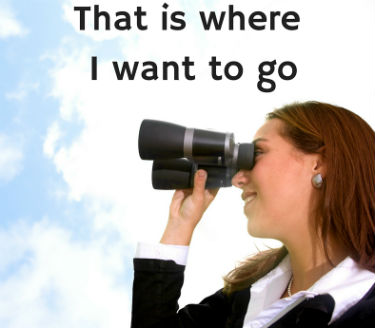 One thing I do in our business mentoring services is help owners craft a vision statement for their small business. Do you have a vision for your business? Is it written down or in your head? Do you have a business plan?
While many entrepreneurs will tell you that a business plan is a waste of time, a case can be made to take the time to write a plan before you launch a business. According to Small Business Trends, writing a business plan doubles your chances for success. In a survey conducted with those who wrote a business plan, 36% were able to secure a loan or investment capital and 64% had grown their business. Only 18% of businesses that didn't write a plan were able to secure a loan or investment capital; only 43% of those without a plan had grown their business. Clearly, writing a business plan can be beneficial.
If I ever decide to start a new business, I would definitely write a business plan, but I'm in a different position now than I was 8 years ago. When I started this business, I didn't take the time to write a business plan, but I have written a strategic plan.
Strategic plans are for established businesses that want to plan how to grow a specific opportunity they have been thinking about. Business owners who approach us for help with strategic planning frequently don't know where they want take their business. We often start with the development of a mission and the establishment of core values, which naturally leads to a vision for the business.
Understand What Your Current Business Is
When I help a business develop a strategic plan, I start with identifying what the current business looks like. What do you do? What is your company culture? What values do you hold in your business?
Next is your why: Start with identifying why you do what you do. First, make a clear statement about what your business provides. After that, dig deeper into your why. Why does your business exist? What gets you excited every day?
Business Culture: What is the culture like at your business? Remember, you can't state your business culture like you can your mission and vision. Your culture is something that develops on its own, but you can influence it.
Core Values: You should develop core values for your business. That is, what do you hold true or believe to be true in the way you operate your business? Core values help you determine what is right and what is wrong.
Business Mission = Current Business
The next step to writing a successful vision statement for your business is to develop a mission statement. Your mission statement is what your business currently does. Your mission can be thought of as the core of your business. Like Bob said in the movie Office Space: "What would you say you do here?"
Don't overthink your mission, but make it powerful. After all, by this time, you know what you do and can articulate it better than anyone. Aim for your mission to be 3-4 powerful sentences that tells the world what it is you do.
Vision Is Where You Want To Go
By this point, you have done some pretty deep thinking about your business. You know what it is that you do (mission). You know why it is you do what you do (your why). You know those the guiding principles of how you want your business to operate (core values). Now you need to define where you want to go (your vision).
So take a look at your mission, your why, and your core values. What don't you have? Why is your business not what you want it to be? Think in future terms of 5-10 years from now and think big.
When you craft your vision statement, you need to think specifics. Maybe you want to hit a certain dollar amount, a certain number of employees, or target a certain geographic range.
Get Clear On Your Vision
If you are still confused, it's OK... this is really hard work. Developing a vision statement is not something that is going to happen in the time it takes you to read this blog post. You will have to set aside time to do some critical thinking about your current business and where you want to go.
Once you have all of your thoughts together, craft a very clear vision statement of again 3-4 powerful sentences. Remember that it is very important to be specific.
Execution Of Vision Is All That Matters
You have done a lot of work up to this point and the only thing that is left to do is execute your vision. Once we get to the point of having a mission statement, core values, and a vision for the business, we are ready to move on with developing a strategic plan. So I typically ask clients, "OK, so what do you need in order to accomplish your vision?"
This question leads to all sorts of stuff. We typically start with the organization chart and identify all of the gaps on it. Then we start to talk about a marketing plan, sales strategy, and financial projections.
I really love working on strategic plans with clients because it is usually eye opening for them. After the vision statement is crafted, I am always reminding them to keep their eyes on the prize. The only thing that matters is executing on your vision. Make sure that your daily actions are supporting your vision statement; if not, make some changes.
Do you have a clear vision for where you want your business to go?