We're often asked by our clients whether or not a dedicated business credit card is a good idea. In the vast majority of cases, the answer is yes, since acquiring and using a company card offers many benefits to the new and established business owner alike.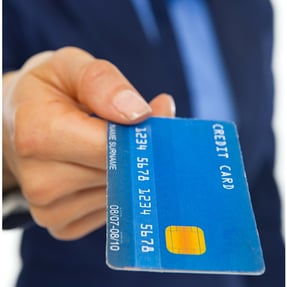 Not only is a business credit card a convenient source of short-term financing for the busy entrepreneur, it comes with a range of built-in advantages that include:
Cost-cutting perks
Emergency funding
Streamlined bookkeeping
An instant credit rating
In contrast to a small business loan that can be difficult for the newer business to obtain, company charge cards represent a valuable source of credit that's relatively easy to get approved for, and that boasts a low interest rate similar to that of most personal credit cards.
Business Perks Help Cut Costs
The various rewards and cash-back incentives offered by many business credit cards are an effective way for your company to trim expenses. Cash-back cards typically repay 1-2% of all purchases made, less any refunds, directly to the card holder. This seemingly small amount can add up quickly for those companies that use their cards to pay for business expenses on a regular basis.
Some business credit cards also come with point-based rewards programs. While many of the gift options available are simply nice-to-have's, the true value of these programs lies in their travel miles and packages. Whether your employees regularly travel by air, or simply rent the occasional vehicle or hotel room, these business expenses can be significantly reduced when you take full advantage of the perks available to you.
Higher Limits for Stop-Gap Financing
Business credit cards tend to offer higher credit limits than the average personal credit card. This can give the small business owner significant peace of mind when it comes to being prepared for the unexpected.
Even the most thorough budgets and business plans can fall short in the face of events like unanticipated trends in the market, or an economic downturn. And the unfortunate fact is that some business expenses, like employee payroll, simply must get paid regardless of temporary financial set-backs or timing issues.
As an emergency stop-gap measure, the relatively high limit on your business credit card means you're less likely to be caught out by financial events beyond your control. Even if you never have to use the full extent of the credit that's available to you, knowing it's there can mean having one less thing to worry about.
Business Expenses in One Place
When you choose to use a dedicated company credit card, reconciling your small business bookkeeping becomes that much easier. You can simply set up one vendor account for the credit card company, and enter all charged expenses as invoices against that vendor.
And because business credit cards often come with the option to have multiple user cards issued to key personnel, it means less fussing with employee expense reimbursements. With instant access to card activity at any time, you can:
proactively track company spending
keep expenses and revenues up to date
minimize the risk of being caught off guard by unexpected costs
To further streamline the reconciliation process, a professional outsourced bookkeeping service can show you how to set up and debit each business expense to the appropriate account, as it's charged. In this way, you'll always know just where you stand in terms of what you owe, and you won't be left with an unallocated credit card balance at the end of the month, or year.
With the help of a qualified bookkeeping company, your small business can feel confident that all of its credit card expenses will be accounted for, reconciled accurately, and paid on time.
Young Companies Can Establish Credit
Applying for and regularly using a business credit card can help younger companies to establish a track-record for their credit history and rating. When your business is new, vendors don't know you, and it can take time to develop a useful level of credit purchasing with those suppliers that are integral to the products or services you provide.
Many vendors will require that you pay by check or charge card until they can thoroughly evaluate your potential as a quality customer, and feel comfortable enough to extend credit to your business. At the same time, the spending capacity afforded by your business credit card means you won't be shut out of the purchases you need, just because you don't have the ready cash, or a credit account with a particular supplier.
With its revolving credit, significant purchasing power, and relatively low fees and interest rates, the business credit card is a handy tool for supporting the growth of any entrepreneurial vision. When managed carefully, a company charge card can be a cost-effective way to ensure that your small business never has to miss out on the opportunities that come its way.