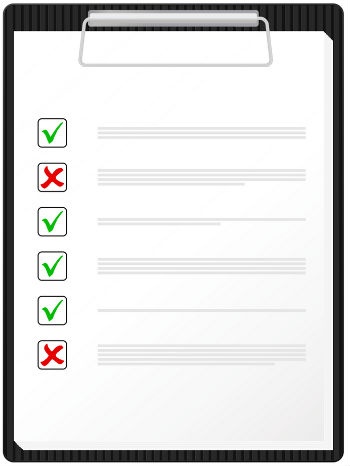 As one of your greatest assets, your employees play an integral role in the success of your small business. So it only makes sense to devote a reasonable amount of time and effort to choosing just the right members for your team.
Consider these recent hiring statistics:
The average company cost per hire in 2016 was $4,129.

The average time it took to fill a given position was 42 days.
While there's no denying that recruiting can be both expensive and time-consuming, picking the wrong candidate can have far more serious implications.
Fraud, harassment, disloyalty … bad hires can negatively affect everything from your company's morale and productivity, to its revenue and workplace safety. When it comes to risk management, investing in employee background screening is an effective way to protect your business from avoidable mistakes.
Bad Hire Risks
Like many small business risks, prevention is the best medicine for side-stepping a bad hire. Don't hire in a hurry, don't believe everything you read on a resume, and don't take shortcuts when vetting potential personnel. In a recent CareerBuilder survey, a full 38% of business owners reported bringing the wrong person on board because they hired too quickly. And 11% of those respondents admitted to not performing adequate reference checks.
Your team is the lifeblood of your business. And as a business leader, you need to devote the same resources to sourcing and developing the right people and workplace culture, as you do to your products, services, and financial strategies. Rather than taking applicant claims on faith, pre-screening solutions lend a layer of objectivity to the hiring process.
There are many reasons why a new employee may not work out. But uncovering pertinent data about their employment, education, credit, or criminal background before you hire them can help you avoid situations like these:
41% of companies surveyed by CareerBuilder said that a bad hire in the last year cost them at least $25,000

36% experienced a negative impact on employee morale, while 22% reported the same for customer relations

About 63% of hires-gone-wrong exhibited negative attitudes, failure to work well with other employees, or failure to produce the proper quality of work
And hiring without doing your due diligence can have even more significant financial - or even legal - consequences. According to the Association of Certified Fraud Examiners, for example, occupational fraud cost US businesses well over $6 billion in 2016.
When it's time to recruit, it's time to take steps to attract quality candidates, network for legitimate referrals, and check employment references (both applicant-provided and independent) with a fine-toothed comb. Some estimates place 80% of all employee turnover firmly on the shoulders of substandard hiring tactics. Working with a reputable screening firm may minimize the odds of making a mistake that will cost your business in more ways than one.
Why Use a Screening Company?
Competent, engaged employees enrich any business. And with so much riding on their hiring practices, many companies rely on background checks to reveal information that could put their staff, customers, reputation, or competitive advantage at risk.
Professional employment screening can benefit your business by providing:
industry-specific screening criteria,

real-time results, and

assistance with what can and cannot legally be considered in making a hiring decision
Hiring regulations vary from state to state, and employment laws tend to evolve regularly. This can make recruiting a complicated process. It's important to stay up-to-date with the latest hiring rules for your region, and relying on a proven background screening company can help you with this.
Many screening companies offer a range of options and packages designed to provide the best fit for the position you're looking to fill. From drug testing to driving records, factual background reports can protect and improve your internal processes and help your business to meet any regulatory requirements.
Some of the common services offered by employment screening organizations include:
verifying identity, social security number, address, and employment history,

verifying education, professional certifications, and personal references

running credit, criminal, and motor vehicle checks,

performing drug and alcohol screens
Your business may not need to employ every background check available, as much of that decision will be based on the duties and responsibilities associated with the job you're hiring for. At the same time, there are very few hiring situations that wouldn't benefit from some level of employment screening.
The timely, accurate information provided by a background check can mean the difference between investing in long-term personnel based on insight, or instinct. And since a bad hire is worse than no hire at all, hire slow, fire fast, and take steps to keep your risk exposure to a minimum.