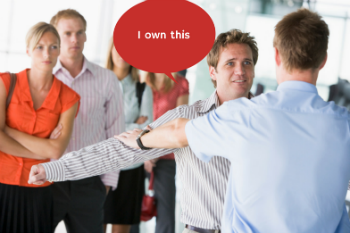 I consider myself an excellent traveler. However, my wife says I'm the most annoying person to travel with. When I'm travelling somewhere and the airport is involved everything needs to be just so. My bookkeeper instincts kick in and there is only one way to travel; that is the right way. Here is how an efficient bookkeeper hits the road.
Getting to the Airport
When driving and you find yourself at a stop light pay attention! Nothing is more annoying to me than when the guy first in line doesn't go immediately when the light turns green. Helpful tips are to turn the radio off when at a stop light and stare intently at it until it turns green. When the traffic light does turn green, gun it. This is your duty to the rest of society so this rule applies to your entire life not just getting to the airport.
I used to get a ride from a friend to the airport until I realized how much of an inconvenience that was for everyone. Now its park and ride all the way for roughly $8 a day you can't go wrong.
Depending on the time of year I like to arrive 1.5 to 2 hours before my flight. That does not mean I'm pulling in then I want to be at the desk checking in. I leave early for everything and if I arrive 5 minutes early I consider that on time.
Once at the Airport
Always use curbside check in and always tip. It's a free service but it's going to save you a lot of time and boost your efficiency. I recommend $5-$10 a bag.
Efficiency through Security
This is really the most important part of this entire article. I mentally prepare for getting through security long before my flight. Sometimes a day or two out I'm reminding myself mentally of my process because it is so damn good.
Staying in tune with the most recent changes to the airport security process is crucial. Pay attention each time you go through and try and figure out ways to improve your process.
1. If you are carrying a water bottle as I always do go to the rest room and dump you water out.
2. I, like most business travelers, also always carry my laptop in a bag which actually turns out to be helpful. Take everything out of your pockets and put them in your laptop bag.
3. Take your belt off and put it in your laptop bag.
4. Take your hat, jacket and any top they might consider to be baggy off and put them in your laptop bag.
5. Untie your shoes and tuck the laces into your shoes.
Now you are ready. This entire process should be done before you even get in line for security. While the order in which you do this process can vary it is important to come up with an order that works for you and try and stay consistent. This will keep the process efficient for you.
6. As soon as possible grab two gray bins for all of your belongings. In bin #1 goes the laptop by itself of course. In bin #2 your shoes followed by everything else. It is important to know exactly how many bins you need before you get there; remember there is no guessing this is a dialed process. You will learn how many bins it takes you over time, but expert travelers agree the magic number is two.
If any hang ups occur because of your actions you must modify your process. If your bag needs to be searched you are doing something wrong. Look for ways to make your airport security process more efficient and pivot. Learn from mistakes and inefficiencies and modify your process.
While I am going through this process is when my wife tells me that I am the most annoying person to travel with. You see we are quite different when it comes to things like this. She is a web developer and thinks differently. She is more creative and doesn't see the value in putting effort into this type of process. For me though process is everything. Process allows for efficiency and scalability.
Want a bookkeeper that can't help but make everything in life as efficient as possible?