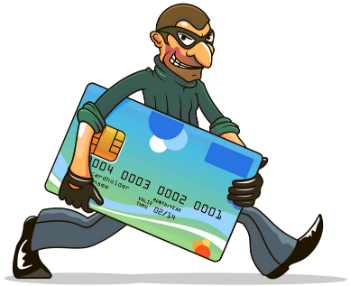 Identity theft complaints nearly doubled between 2010 and 2015, according to the Federal Trade Commission. Meanwhile, fraud incidents including those associated with compromised credit cards reached an all-time high in 2016 – an event that led to a whopping $16 billion dollars in individual losses!
The FBI defines credit card fraud as "the unauthorized use of a credit or debit card, or similar payment tool (ACH, EFT, recurring charge, etc.), to fraudulently obtain money or property."
Some of the more broad-based fraud schemes the Bureau typically sees include:
e-mail and phishing attempts to trick victims into revealing financial and personal identity information,

computer network intrusions that result in the loss of sensitive information, and

"smash and grab" theft involving hard copies of driver's licenses, credit and debit cards, or personal checks
There are many types of accounts payable scams.
It's not uncommon for credit card thieves to rack up thousands of dollars in illegal purchases before stolen cards are shut down. And in many cases, merchants are deemed at least partially responsible for chargebacks related to fraud.
Basic Charge Card Security Tactics
EMV chip-based credit card technology has been a great help in defending small business owners from fraudulent hands-on transactions. But with internet-based retail expected to exceed $27 trillion by 2020, more thieves than ever are moving online.
In addition to offering goods and service directly for purchase, many companies are streamlining their receivables by accepting bill payments online. Greater online financial activity leads to greater opportunity for credit card abuse. So it's important to pay careful attention to distance transactions – whether they're telephone, email, or web-based.
To keep your credit card dealings as protected as possible, here are a few basic security measures your business can take:
Engage the services of a recognized payment processor to ensure payments both online and off benefit from the latest in security features and encryption technology.

Implement your payment processor's Address Verification Service (AVS) for comparing the numerical portion of a card user's address to what's on file with their issuing bank.

Take advantage of point-of-purchase security programs like Verified by Visa and MasterCard SecureCode for an effective way to confirm cardholder identities by password.
Any time you're not conducting a credit card transaction in person, you should be confirming your customer's Card Verification Code (CVC). Typically consisting of three digits, this security number is found on the back of most credit cards.
Requesting the CVC doesn't guarantee that a thief didn't steal the physical card that they're holding. But it does ensure they didn't simply gain access to the name and card number of an unsuspecting acquaintance or stranger.
It Takes a Team Effort to Thwart Credit Card Fraud
Vigilance is your best defense when it comes to safeguarding your organization. While they're not always related to credit card fraud, keeping up with the latest in small business scams is an effective way to keep your risk management plan current.
Doing your own due diligence - and taking steps to educate your staff about credit card fraud – can pay dividends when it comes to preventing financial losses.
Teach your team to question any transaction that falls outside the usual parameters. The more your employees know, the better protected your business will be. And that knowledge begins with learning to recognize potential fraud warnings like these:
Large or unusual sales orders initiated by unfamiliar buyers. If these transactions take place in-store, don't be afraid to request additional identification that proves the customer is the actual cardholder. In the case of distance transactions, you may want to call the "new client" to confirm the details of the order.
Payments spread out over multiple credit cards with similar or sequential numbers. Counterfeit cards can also be recognized when an inexperienced criminal is unaware that Amex card numbers always start with a 3, Visa with a 4, MasterCard with a 5, and Discover with a 6.
Rush orders requesting overnight or express shipping. This red flag becomes more significant when it involves international orders.
Large purchases of cash-equivalent items including lottery tickets, gift cards, and money orders. These are quick ways for a thief to cash in on a card that may soon be reported as stolen.
Multiple credit card transactions over a relatively short period of time. This is especially key if the transactions involve multiple orders charged to the same credit card, but shipped to various addresses, OR multiple orders charged to a range of credit cards, but shipped to the same address.
Any order that contains multiple expensive or large-ticket items.
A quick search of governmental sites and other authoritative sources will turn up plenty of tips for keeping your business safe from credit card fraud. But watching for suspicious transactions is an easy, preventative step that every employee can be trained to take.
Photo credit: Canva