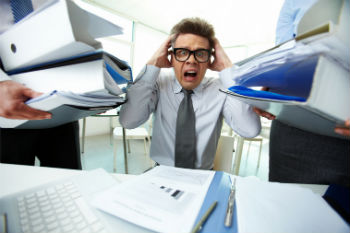 Do you need your small business bookkeeping cleaned up? Don't worry I get it, you fell behind on your books. Stuff happens. After all, what is more important in business than making sales, right? However, at some point, you need to just get that bookkeeping mess cleaned up and caught up. And you want to make sure you never face this situation again.
Prioritize It
The first step in getting your bookkeeping cleaned up is committing to prioritizing it. There is a difference between bookkeeping being on your to do list and you actually doing something to get your books handled.
Somewhere along the way, you just kind of slid the books to the back burner. And then you decided to try and catch them up yourself, but you made a mess. Now the tax deadline is rapidly approaching and you are starting to stress. Don't let your books distract you from what is really important: growing your business.
Consider Professional Bookkeeping Help
If your books really are a mess, you may want to consider seeking some professional bookkeeping help. An experienced bookkeeper can save you a lot of time, frustration, and money in the long run.
Consider an outsourced bookkeeping service, as they will have an entire team of professionals, not just one individual. Bookkeeping companies have dedicated teams with years of experience who can fix your bookkeeping mess quickly and accurately.
Put a System in Place for Upkeep
Once you finally get your small business bookkeeping current, you should put a system in place to maintain it on a regular basis. At SLC Bookkeeping, we recommend that you update your books on a weekly, monthly, or quarterly basis.
At our company, I update our business bookkeeping on a daily basis. I am sure you think I do this because it is easy for me and because I'm in the industry. That's just not true. I definitely recommend that certain businesses update their books every day.
Updating your bookkeeping on a daily basis engrosses you in your business on an intimate level. You become very familiar with your business's finances, which gives you a great deal of confidence in your ability to move it in the right direction. Additionally, you are constantly monitoring your key business metrics and gain total awareness and control of your cash flow. What is more critical to your small business than cash flow? (The only thing that could be considered more important, I might argue, is your team)
Use Bookkeeping to Grow Your Business
Once you are maintaining your business bookkeeping on a regular basis, you will start to see more value in it. Take advantage of it by using your bookkeeping as a tool to grow.
Make sure that you identify and monitor several key business metrics for your business. Once you identify some business metrics, you need to monitor them to make sure your business reporting gives you insights about them.
One of the best financial tools I believe every small business needs is a good financial forecast. I am a firm believer in setting an annual budget to gain a sense of what lies ahead and to develop a hiring plan. However, I also think that you should forecast out several months at a time, at the end of every single month. That is the absolute crucial truth: every single month.
When you forecast out (let's say the next 3 months), you get a glimpse into the financial future of your business. This can help you spot threats as well as opportunities faster and make the proper pivots to keep your business on track with your goals. It can also help you validate large investments like equipment purchases and hiring decisions.
Don't get caught in the trap of only looking at past financial performance; future financial forecasts are much more important than your past performance.
Do you need your bookkeeping cleaned up and maintained on an ongoing basis? Contact SLC Bookkeeping today.