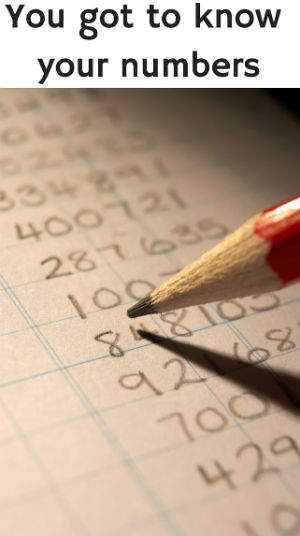 I was watching CNBC's The Profit last night and Marcus Lemonis said something brilliant.
"If you don't know your numbers you don't know your business, it's that simple" -Marcus Lemonis from The Profit
Marcus was reaming one of the owners from Mr. Green Tea Ice Cream Company. Marcus was upset because one of the owners messed up the estimate for acquiring and remodeling a new factory. The actual cost was more than double what he originally estimated. This is not an uncommon story in the world of business.
You have got to know your numbers!
Keep Your Numbers Updated
In my experience, most small business owners want to know their numbers, but they lack the proper bookkeeping system. Additionally, many business owners lack the general knowledge and skill set to actually know their numbers. Financial reports can be confusing and nauseating to some people. Very few business owners know their numbers in and out, but those who do tend to run super successful businesses.
Where I typically see the breakdown is actually in getting the bookkeeping updated. Most owners look at bookkeeping as a pain and therefore push it to the back burner. Let's be honest, bookkeeping is not that sexy and most people think it is a waste of time. But the end result of bookkeeping is financial reports that you can use to make decisions.
One thing to consider is finding a company that offers outsourced bookkeeping services. That way your books will be updated accurately and automatically on a regular basis.
Analyze Your Financial Reports Often
Once you have a bookkeeping system in place, it is important that you utilize it properly. You should learn to use your bookkeeping as growth tool. Once you have access to updated financial information on a regular basis, you will learn how to use it to guide your business. Look at your financial reports often and use them to make strategic business decisions based on raw data.
Turning your bookkeeping system into a growth tool requires that you set goals (i.e., create a budget), measure results, and then use that information to forecast your financial future.
Set Clear Goals And Monitor
Another important step in finding value in your bookkeeping is to build a budget for your small business and monitor your progress. A budget should be thought of as a broad picture of the business. Typically, we recommend that you build an annual budget before the start of every year.
Use your budget to compare your actual results with your budgeted expectations. Look for large variances and then use that information to help you build a forecast. There is a difference between a forecast and a budget. We like to leave our budget set once it is built, but the forecast fluctuates with what actually occurs in the business.
Forecast The Future
In another episode of The Profit that featured Inkkas Shoes in Brooklyn, New York, Marcus dropped another brilliant line. He said:
"There are too many lessons learned from your end after the fact."
This line really resonated with me. This happens a lot in the small business world. So many businesses go out of business because they run out of cash, but they never see it coming.
Hands down, the most powerful financial tool that we use internally at SLC Bookkeeping is our financial forecast. Our bookkeeping is updated daily so we always know exactly where we are at. We look at financial reports several times per week to make sure we are on track. We then compare our budget to the actual numbers and analyze the variances. We take all of this information, consider what is likely to close in the sales pipeline, estimate our expenses, and use everything to build out an accurate financial forecast.
Our financial forecast is what allows us to make critical business pivots before problems happen. The forecast allows us to take advantage of every opportunity and also the ability to manage our risk.
Do you know your numbers really well? Do you want to?
Photo Credit: Canva