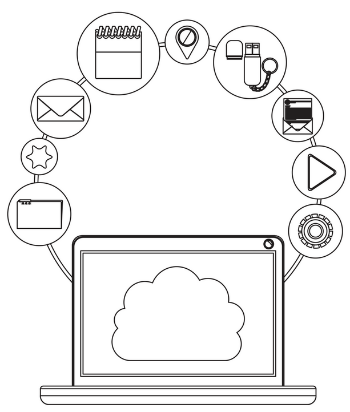 Companies large and small are discovering the advantages of migrating their operations to the cloud. Most of these benefits revolve around saving money, improving flexibility, and staying competitive.
When your organization runs in the cloud, it gives you the ability to access and update business data wherever and whenever there's an internet connection. Scalability, predictable payment structures, and reduced overhead for onsite server repairs and hardware management only add to the cloud's allure.
So, with so much on offer, why hasn't every small business moved to the cloud?
The truth is that a full migration isn't necessarily the right choice for every company. Sometimes it makes more sense to move only a portion of your infrastructure to the cloud. And despite the many upsides, there are certain risks and challenges associated with relocating and managing your resources virtually, from having to revamp your internal processes, to the potential loss of security or compliance.
But if you've decided it's time to step into the digital age, preparing your small business in advance will make the leap that much more successful.
Why Business is Often Better in the Cloud
No matter the size of your business, migrating your files to the cloud is no small task. With the right planning and professional assistance however, the benefits are many.
Most small businesses that run in the cloud take advantage of cloud data storage and backup, cloud-based software applications, and cloud hosting, because:
Storing files virtually means they can be accessed, shared, and synced across devices remotely by anyone with appropriate credentials

Cloud backup and recovery keeps those files safe from hardware crashes and other forms of data loss

Virtual programs that become available to your business range from accounting software, to administrative platforms, to customer service tools (think QuickBooks, Office 365, and Salesforce)

Cloud hosting encompasses services like email and app hosting that allow your employees to effortlessly collaborate and share information
Not only are external providers responsible for the maintenance and security of your cloud data systems, your business will benefit from greater agility and the most up-to-date technology.
Other key benefits include:
Cutting Costs
You'll reduce on-premise IT costs by working in the cloud, and your business can profit from the pay-as-you-go measures employed by many cloud services. You pay only for the technology you need and use.
Scaling as You Go
Your business will have access to virtually unlimited computing power and storage. And technology-on-demand like this means services can be quickly scaled up or down to meet your real-time needs.
Working Anywhere
With remote access, you and your team can communicate, share tools, and work on files together regardless of physical location.
Ramping Up Productivity
Sharing platforms and connectivity solutions across departments or branches improves employee performance and the overall efficiency of your business.
Important Factors You Should Consider
Running your business in the cloud is a very different experience from working with an on-site framework. It will affect how you and your employees accomplish your work, and it will dictate the skills needed to adopt new systems and workflow procedures. When mapping out your move, consider the following:
Business Analysis
Do cloud services make sense financially and operationally for your company? Analyze the suitability of moving your company's current applications, the repercussions of adopting new apps, and the costs for both. You should also consider that there may be a significant time factor involved in migrating your existing data to the cloud.
Personnel
New technologies demand new skill sets. Your pre-planning should address the possible need to:
train current personnel,

hire for any new roles that may be created, and

dedicate human resources to implementing and troubleshooting the migration process
Communicating your strategy to your team before, during, and after the switch is essential for getting and keeping everyone involved onboard.
Time and Resource Allocation
Your best bet is to embrace a gradual approach to cloud migration. Planning, implementing, and budgeting for changes in stages will allow your business to adapt new processes where necessary. It will also allow you to identify and deal with any problems as they come along.
Security Management
Today's cloud solutions are better protected than most on-premise IT platforms. But that doesn't mean there's no risk associated with migrating, storing, and accessing sensitive information.
Changing roles and responsibilities within your business mean you should consider who will have access to files, and whether there will be new compliance issues. Cyber-attacks are always a concern, so research your service provider's contingency plan, and make sure you have one of your own in the event of a security breach.
Every business is different, and your unique situation will dictate what you need to do to make your transition to the cloud as seamless as possible. Moving to the cloud is a lot like relocating to a new country – you have to go there expecting to do things differently. Every migration strategy requires a change in thinking, procedures, and workplace culture. And hiring an outside expert is often the best way to plan, execute, and fine-tune your move.