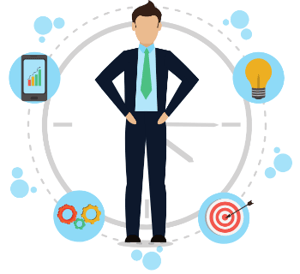 Tussling with time management? Struggling to move that new project forward? You're not alone. A recent study listed managing project costs, hitting deadlines, and sharing information across teams as the biggest hurdles facing project managers in 2018.
Handling tasks and deadlines successfully is a perpetual challenge for the small business owner. Fortunately, technology has equipped us with a wide range of popular management tools to help keep business projects under control.
Organization: The Key to Better Management
Organization is essential when you manage a business. But key organizational skills go beyond just keeping meetings blocked off on your calendar. They include the ability to assess your company's future needs, so you can plan accordingly and prioritize the use of resources like working capital and personnel.
As a result, managing an organized business means paying close attention to scheduling, time management, prioritization, and project planning. And while successful project management is all about setting and meeting incremental goals that will move your business forward, you'll be more likely to reach those objectives when you leverage tools specifically designed to:
coordinate tasks,

organize schedules,

and plan and manage workflows
It doesn't matter if you work better with lists, or prefer a more visual platform, there's an internet-based management tool that's right for your business.
We'll look at a handful of the most popular applications below. But before we get started, you may want to check out a tracking program called RescueTime to gain a better understanding of your daily work habits - and where you might benefit from improved focus and productivity.
Google Calendar
Google Calendar is a convenient way to ease yourself into the use of web-based support tools. As a time-management and scheduling calendar service, Google Calendar lets you create and edit daily business events. It's free to use, and it works particularly well in owner-operated service industries for managing meeting times and keeping track of recurring appointments. Google Calendar also allows you to sync between your phone and your laptop, and to sync the calendars of multiple team members.
Trello
Trello is an internet-based project management app that's especially popular with entrepreneurs who aren't experienced project managers. It's a highly visual program that's easy to use - and many people find it an enjoyable way to organize and prioritize planning. Trello lends itself to team collaboration. Just create a project board, add some virtual activity cards and checklists, and you'll be well on your way to assigning tasks, managing due dates, and viewing the status of your project at any given time.
Todoist
If you're more of a list person, Todoist is a great way to get all those pending tasks out of your head and onto a list – anywhere, anytime, whether you're online or off. The creators of Todoist understand that an uncluttered mind is a creative and productive mind. So their app is intended to let you capture to-do items as they arise, set deadlines and due dates, and review your workday or week in advance - checking off tasks as you go.
Evernote
If you're on the move often and prefer to work from your phone, Evernote is a mobile app specifically designed to take notes, create to-do lists, and organize reminders. When you use Evernote, you'll never have to worry about losing that great new idea again. In addition to helping you seize moments of inspiration with voice, notes, and pictures, the app lets you track tasks and deadlines, keep records, and manage your projects both online and off.
Basecamp
Constantly searching for your files and emails? Basecamp software was created for every business owner who knows what it's like to feel scattered. By giving you and your team a dedicated place for chat threads, word documents, and group email chains, Basecamp promotes efficiency and task accountability, while it helps prevent missing information, communication gaps, and a lot of extraneous work.
Mailchimp
Managing your mailing lists and newsletter subscribers is easier when you use a program like Mailchimp. But better organization is only part of the story. Mailchimp is also a business favorite for creating and running successful marketing campaigns. Built for growing ventures, Mailchimp offers easy-to-use newsletter design templates, email performance reports, and the capacity to connect with more than 300 other apps and services.
No company can succeed long-term when deadlines are missed and time is mismanaged. Why not take advantage of today's vast collection of management tools to run a more profitable business?