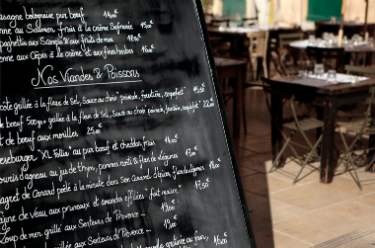 One of the most difficult steps to opening a restaurant is calculating your overhead and then setting your prices. Knowing your overhead before you get started can help you to decide if you are opening in the right market, if your target consumer can afford the prices you will set, and if you are going to turn a profit.
Planning and preparing before jumping into an opening can set your foundation for serving happy costumers, while keeping you afloat.
Calculating Your Overhead
The term "overhead" is thrown around a lot in the business world. In short, it refers to the operational costs not related to your direct materials and labor. What are you spending apart from food expenses, waiting and dish staff, and your cooking staff? Some expenses you will want to consider include:
Marketing budget (including promotion, ads, discounts, etc.)
Assets & their depreciation (building purchase, large equipment, vehicles for restaurant use, etc.)
Rent or mortgage payment
Indirect labor costs (maintenance staff, custodial service, accounting service, etc.)
Supplies not related to food (cleaning supplies, dish detergent, etc.)
Utilities & Bills
Property taxes, annual licensing fees, other taxes
By adding up all of your expenses, you'll see an overhead cost that can be broken down by quarter or month — or even week, day and hour. Your overhead cost could also be referred to as operational costs, expenses or fixed costs.
When deciding if you should include an expense in your overhead cost calculation, consider if it is fixed or variable. Everything above is generally given at a fixed rate. Food and labor are not included because they tend to vary by day, week or season.
While there is some variance to the above-mentioned expenses, they are items you will be paying on a consistent basis to stay in operation. Your electric bill may be cheaper one month and much higher another, but you will always have to pay the rate the company requires. When it comes to food or wait staff, you will see changes in food prices often and variance in staff wages based on experience and hours.
Setting Your Prices
Now that you know your overhead, you can begin to set prices for your restaurant. In addition to overhead, you must consider your variable costs, the market you are opening in and your unique offering.
If you are opening a pizza shop between Pizza Hut and Dominos, you will need great prices or a unique selling point to attract business. If you are opening a 5-star, haute cuisine restaurant in a middle-class working suburb, you may not see any local patrons.
It may seem easy to calculate menu item costs by looking at your expenses and deciding what will turn a profit. Unfortunately, pricing is more of an art than a science. The numbers matter, but your intuition does too.
Your overhead costs will need to be covered, but ultimately, your buyers will determine the price. You may be willing to sell a cheeseburger for $20, but unless you find a buyer to pay that price, you will not sell it. Buyers must feel like they are getting as much value out of your food as they are paying for it.
While there are very specific, margin-based formulas for determining pricing, they may lead you astray. The best way to decide on what to charge is to account for the formula, plus your target buyer. Once you have your calculations, ask yourself if your target patron will pay that price. If they will, great! If you think the price is too high, or maybe too low, adjust accordingly.
You want to strike the balance of turning a profit while still offering consumers a price they are willing to pay.
Adjust Your Perspective Often
These calculations are not just for startups. Even if you have been in the industry awhile, it never hurts to rerun your numbers, look at your patrons and decide if you are at a fair value point. If you are struggling to keep customers coming back, this could be a great place to start repairing that relationship.
Maybe you're considering running a promotional offer and want to still turn profit. Whatever the case, consistently checking your perspective on pricing can keep your business booming.