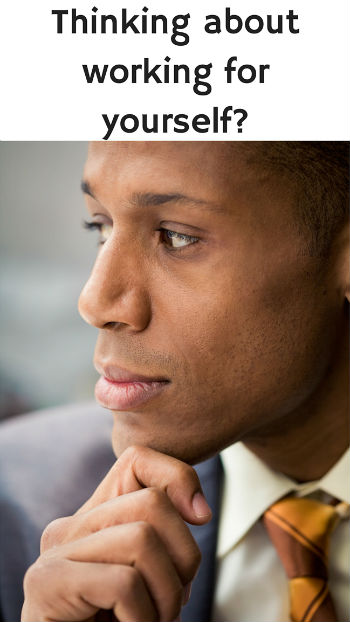 As a small business entrepreneur, you learn the pros and cons of self-employment pretty quickly. It can be a roller coaster ride with huge highs and deep lows. Here are some of my thoughts about the truth of being self-employed.
The Pros Of Self-Employment:
You Control Your Destiny
Being in charge is a pretty good feeling. You don't ever have to be worried about being fired. Your success or failure is completely in your hands. Many people fear being in charge and making all of the decisions; they can't handle the stress of knowing that the fate of the business is solely in their hands. Entrepreneurs tend to be the opposite. They can't stand not being the decision-maker and they thrive on the pressure of being in charge.
Do It Your Way
The flexibility of self-employment might be my favorite thing of all. You don't want to work Monday through Friday? You want to do other things during your work day like go skiing, go for a bike ride, hit the gym, or take the dog for a walk? You want unlimited vacation? OK. Why not? It's your business... knock yourself out. One great thing about self-employment is truly defining your business and your goals. That may mean you want to be the next "hot start-up" or a business that has a different vision, such as a particular lifestyle. No matter what path you choose, you get to do it your way and then move the business in the direction you see fit and that you believe in.
The Passion
It is highly unlikely that you will find yourself in a job you dislike if you choose the path of self-employment. Following your passion in both work and life is crucial to the success of both. Nothing is better than waking up and going to a job that you actually enjoy. You wake up excited and happy, which is refreshing and healthy. When you are following your passion, success comes naturally. Everything clicks and you are happy and excited because you are succeeding while pursuing your passion.
The Cons Of Self-Employment:
There Are No Guarantees
Nothing is certain in self-employment. You don't have any idea how long the money will keep rolling in or how long your employees might stick around. There are no guarantees. Some people can accept that and it will drive other people crazy.
It Seems Like the IRS, Banks, and Others Are Against You
As a self-employed person, the IRS will want to tack on some additional tax. One thing you might want to consider is an S-Corp for your small business formation. However, then you will go for a home our auto loan only to find out that lenders tend to dislike the fact that you are self-employed. If you are having a great year this year, they most likely will not care. They only care about the most recent tax return accepted by the IRS. You will wonder why the bank giving you the loan thinks you are such a risk compared to other people who work for someone else and could potentially lose their job at any point. I would have to agree with you.
It Isn't All Roses
For one, the pressure of self-employment can be grueling. Will you make payroll this month? Where will your next lead come from? Should you increase sales or cut expenses? These are all common questions that a small business can and will face. I can easily point out the first pro on my list as another major pressure point of self-employment: You control your own destiny. That can be a scary thing at times. When things are going great, it is an awesome feeling to be in charge. When things turn bad is when it gets tough. Who do you turn to in times of trouble? Guess what? It's all you. So while being in control is a positive aspect of self-employment, it can also be a negative one for some people.
Like most things in life, self-employment has its pros and cons. If you are reading this, trying to decide if self-employment is right for you, then you are a long way down that path already. As it turns out, working for yourself is not for everyone, but those of us who find ourselves in that situation know that they couldn't have it any other way.
Still have your doubts about starting your own business? Hit me up! I love to talk small business and entrepreneurship.