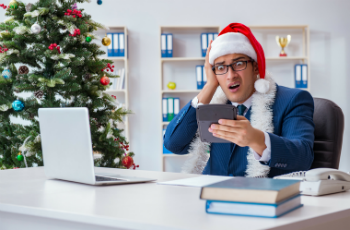 The holiday season is upon us! The jack-o-lanterns and spider webs have been packed away for another year, making way for pumpkin pies, twinkling lights, and silver bells. But for business owners, there's still one huge spooky thing haunting them through the holidays… the Year-end Task List! BOO!
For business owners, year-end tasks can loom over the holiday season like the ghost of Jacob Marley haunting Scrooge. When your year-end to-do list is standing between you and the holiday fun, it may be tempting to procrastinate or take shortcuts. However, if you want your business to grow, the year-end shouldn't scare you. It's a crucial time for your company! Updating, reporting, and organizing for the year-end is an important process for measuring your success and planning the next year's goals and projects.
And it doesn't have to be a lot of work! SLC Bookkeeping's CEO, Matt Roberge, has already compiled a surefire Year-end Checklist that will serve as your road map to year-end organization. It's the first place you want to start.
And if you're preparing to begin your year-end process, we've got some tips that will help things run a whole lot easier using QuickBooks Online (QBO). In this article, I'm going to show you a few ways that QBO can minimize the time you spend on some of your most important year-end tasks. So, strap on your proton pack and prepare to Ghostbuster those year-end spooks away from your holidays!
The Ghost of Business Past:
How to Update Your Accounts without Guilt and Regret
Fallen behind in posting all your expenses and reconciling your accounts? You should start getting your transactions up to date as early as you can, so you won't have to give up holiday time or unravel a big mess during tax season. Catching up might sound tedious, but with QBO it doesn't have to be. Not only can you download or type transactions into QBO with just a few clicks, but you can also upload them using your smartphone or tablet.
If you haven't tried the QuickBooks Online Mobile App, you should download it ASAP! It's free, and it completely eliminates waiting to post an expense or purchase until you reach a company computer. You can add any transaction along with a photo of the document in under 60 seconds. The QBO mobile app allows you to upload transactions anytime, anywhere – from the checkout line, the parking lot, your home, even while you're waiting in the drive-thru! The minute a receipt or invoice reaches your hands, you can upload it then and there instead of adding it to another to-do list. And if you already have a pretty big stack of past expenses, you can use the QBO mobile app to update all those transactions a few at a time on your lunch break or in those spare minutes before, after, or between your day-to-day tasks. You'd be surprised by how quickly you can catch up!
Another alternative is to try one of the hundreds of third-party apps that automatically update your paperwork and data into QBO! It may be the perfect time to try a document management or expense management app like Hubdoc, Shoeboxed, or Expensify. These apps can do some of the heavy lifting for you and automatically update your QBO data along the way. Try to choose one that you can see yourself using on a routine basis, especially if you will be paying a subscription fee to use it. The right app could save you time and keep you organized not only here at year-end, but all year long.
The Ghost of Business Present:
How to Use Custom Reports Better than Scrooge Himself
Once your accounts are up-to-date, it's time to run some reports. You may already know the standard financials reports: Balance Sheet, Profit and Loss, and the Statement of Cash Flow. These are the reports that your accountant will ask for to prepare your company's taxes. But have you tried using QBO to customize your reports for your own evaluations? Using the customizations in the QBO Reports tab can help you look deeper into different areas of your company and help you evaluate its strengths and weaknesses. Custom reports are a great tool for examining the health of your company and checking up on the areas you are most concerned about.
After listening to customer feedback, QBO has streamlined the reports tab and made customizing reports so much easier. Many custom reports are now standard templates, so you can run them in a flash. The reports screen now has the most common customization features prominently in the top toolbar.
For example, why not modify a Profit and Loss report to display profits by product? Simply click the Display Columns drop-down and select an item to display like "Product." Check that the time period is the one you want to see and click Run Report. QBO will add columns showing the profits and expenses for each product. You can play around with the filters to display different views of your company's performance this year.
Here are some other custom reports you may find useful:
Profit and Loss % of Total Income – Shows the percentage of each expense category compared to total income
Profit and Loss – "

Compare another period

: Previous Year: $ change, % change" Shows the changes from year to year in dollar amounts and percentages.
Statement of Cash Flow – "

Display Columns by

: Months" Shows the cash flow for each month side-by-side so you can see seasonal changes.
The Ghost of Business Future:
Create a New Budget Because "It's a Wonderful Life!"
What is it about the word 'budget' that makes us cringe inside? Do you get that feeling too? Maybe it's the memories of hours spent tweaking and retyping and reorganizing cells on a spreadsheet. Or just the anxiety of making a guess on a budget amount without truly knowing if our estimate is even close. Well, the QBO Budgeting tool solves both of those problems. Budgeting is available in the QuickBooks Online Plus, and higher, subscription levels. It's well worth the bump in price. Creating a budget at year-end helps you compare spending in all categories. It's an invaluable tool for planning where to put your money next year. Not only does this Budgeting tool produce a clean, organized budget from built-in templates, but it auto-fills previous years' data!
To find the budget tool, click the Gear icon, and select Budgeting. This opens the Budget tool, where you can customize the fields. To fill in your budget with previous years QBO data select Pre-fill Data? and choose which year's data to use. QBO does the rest! You can then edit any field and add in the estimates you'd like to use. Or you can select "No" under Pre-fill Data? and add your own amounts to the budget template.
You can save your budget and edit it anytime. Once you create a budget in QBO you can run additional reports such as Budget vs Actuals to see how your company is sticking to its budget throughout the year.
Don't go through this holiday season haunted by the business year-end! If you start early, and use all your QuickBooks Online tools, you will complete your year-end to-do list, and still have plenty of time leftover to make the holiday merry and bright!
And don't forget that the staff SLC Bookkeeping is always here to help!
What year-end chore are you most afraid of? Or have you found a way to wrap up your year-end tasks even faster? Leave us a comment and tell us how.