QuickBooks Online can help manage cash flow by utilizing a few features, changing some settings, and accurately updating it regularly. If you use QuickBooks Online to manage your cash flow you will not only know your current bank account balance, but you will also have a snapshot of what your bank balance looks like in the future. Watch this video for some instructions on using QuickBooks Online to help manage your cash flow:
Use Recurring Transactions to Post Fixed Expenses In Advance
You can set QuickBooks Online to post expenses in advance by using the recurring transactions. In the upper right in QuickBooks Online, click on the cog, then select recurring transactions under lists.
The simplest example of an expense you would want to set up recurring would be your rent or mortgage because it is typically a fixed amount. Let's take rent for example that is most likely drafted from your checking account on or around the first of each month. From within the recurring transactions window, click on new in the upper right and select check for the transactions type.
Now give it a template name, leave type as scheduled, and put a number in for days in advance. If you leave it blank or put zero it will post on the date of the transaction. Here is where I think you have an opportunity to manage cash flow better. You would want it to post to your QBO bank register in advance because it affects cash and you will see it coming. Maybe you want it to post 5, 7, or 10 days in advance. The choice is really yours.
Now choose a payee, the account it comes out of, set the interval, start date, expense category, etc.
You can do this for any expense that is fixed. I also like large expenses to automatically post in advance even if they may fluctuate. As an example, health insurance it typically a pretty large expense but may fluctuate as employees join or leave the plan. Even still, it's nice to know it is coming and I would post it as a reminder.
Stop Accepting Checks As a Form Of Payment
Use QuickBooks Payment instead.
I can hear the complaining already. "But what about the merchant fee Matt? I don't want to pay fees."
I would argue that you are losing money by not accepting credit cards. You are losing money because of how long it takes you to get paid. According to Intuit, when you send invoices from QuickBooks that allow for electronic payment, the median number of days to get paid is 5.8 days. Additionally, you are losing a lot of time in processing the checks, depositing them in your bank, accounting for them in QuickBooks, and then hoping the checks clear.
Some of the best advice I ever got was to increase prices by 5% - 10%, only accept credit cards, and get paid in advance.
I know you can't do it, you just can't do it. I hear it every single day. But you can, you just have to commit. Will you lose some customers? Maybe. But not if you are offering a great product or service. However, if you implement that policy you can guarantee that you will only work with those types of people from now on and that you will get paid quickly
And what does that do for your cash flow? It makes it incredibly healthy.
If you are only accepting bank ACH or credit card payments through QBO I guarantee your cash flow will improve. You will get paid much faster.
In an ideal world, you would get a signed payment authorization form from your customers that pay you the same amount each month and then charge them automatically on a regular schedule.
For those customers where this isn't possible you would simply want to invoice them from QBO and allow for electronic payment by bank ACH or credit card.
Let's hop into the mechanics of this in QBO:
First, you will need to set up a QBO merchant account. Follow the instructions in that link which will walk you through the steps to get set up. It doesn't take too long to get set up with QBO but it will be a few days before you can start accepting electronic payments. Don't worry the hassle, time, and wait are worth it for the efficiency gain as well as how this change will positively affect your cash flow.
Allowing QBO payments on an invoice
This is fairly simple so I won't dwell on it. Click in +New in the upper left and select invoice. At the top, to the right of the customer email field, you will see the online payments options and you just need to turn on cards and bank transfer.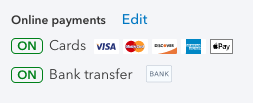 That is pretty much it. Now just create an invoice per normal, email it to your customer, and wait for it to be paid. I guarantee you will get your money faster than if you emailed or mailed an invoice and waited for a check to arrive. A check that you don't even know will clear the bank.
You will get an email when your customer pays the invoice and another when the funds are deposited in the bank.
Are You Maximizing Your Cash Flow?
Schedule a free analysis to find out. Increase profitability and your bottom line.
But the best part is that your accounts receivable is completely automated. No need to record the payment against the invoice and put it in undeposited funds. Then make the bank deposit from undeposited funds into one of your bank accounts. All of that is completely done for you and you simply need to reconcile your account at the end of the month.
Set Up Recurring Charges Through Sales Receipts
If you have customers that pay you the same amount each month it would be ideal to put them on automatic recurring payments. You just need to get a signed payment authorization form from them giving you permission to do so.
To set up a recurring sales receipt go back to the recurring transactions again by clicking on the cog in the upper right and selecting recurring transactions. Now click on new and select sales receipt.
Fill out all of the information and make sure to click on automatically send emails. You will want to pay close attention to the interval, start date, and end date.
Now for the payment method, you would select either QuickBooks payment bank or credit card depending on what your customer authorized. A box will appear that says enter credit card details or enter bank info. Simply click on that box and enter the info. Make sure that the authorization box is checked below the bank or credit card info. Now select save template. Congratulations, you have successfully set up a recurring payment.
Setting up automatic recurring payments from your customers is by far the best thing you can do to improve your cash flow. Imagine getting the majority of your income in the first few days of the month? It's pretty sweet.
Sort Bank Register By Cleared Status
This is a really simple but crucial step. You need to sort your bank register by cleared status. To do so go into your bank register through the chart of accounts or bank feeds. From the bank feeds, click on the bank account then click on the button on the right that says go to bank register. The second column from the left, just to the left of balance, should have a checkmark symbol in it. Click on that so that there is an up arrow to the right of the checkmark. It should look like this:
Ok, that is it, pretty simple. Now let's explain what this does and why it is important.
This is sorting your checking account by cleared status. If you posted any recurring expenses in advance you would see them at the top here because they have not processed your bank yet. Then you should start to see those transactions that are cleared (a C in the column next to them) which means that have been processed by you through the bank feeds but not reconciled. And finally reconciled transactions (an R next to them in the column) which means those that have been reconciled against the statement.
Now the important part is the balance column. From the top scroll down and find the first transactions with a C next to it indicating cleared status. That balance should equal your current balance in your bank account. And now you can see all the transactions that have not posted yet but will above it and also what I refer to as your real cash balance.
Pretty powerful stuff huh. You are really becoming a cash flow master.
Update Bank Feeds Regularly
Ok, for this to work and for you to really start managing your cash flow in QuickBooks Online you need to update your bank feeds regularly.
How often? Honestly, at least weekly. Twice a week would be great and daily would be ideal.
I update my bank account feeds every single morning. Every...single...morning. I do it over coffee. I update 3 sets of books over coffee every morning and have been doing so for years. Why? Because it gives me complete control over my cash flow.
Never, ever, enter a deposit that doesn't match to a deposit in your register. If you have followed all of my steps all deposits should be going through QBO payments and will automatically appear in your bank register. You simply need to match them up. If something is not matching you need to dig in and do some research.
You can go into the backend details of QBO payments and merchant processing by clicking on the cog, then company settings on the left, and then the payments tab. Now click on the manage account button in the upper right. This will take you to the details of the QBO merchant processing where you can view the details of deposits, payments, etc.
Reconcile Monthly
You will need to reconcile your QBO accounts monthly. You need to reconcile all of your accounts on a monthly basis to your statements to ensure you are looking at accurate financial reports. Reconciling is the only way to discover any errors that may have occurred. Humans, AI, and software can all make mistakes. You need to be diligent with reconciling your accounts.
QBO payments will screw up occasionally when automating the deposits into the bank. That is why I told you above to never add a bank deposit that doesn't match to a transaction.
You need to reconcile all bank accounts, credit cards, loans, and liabilities. Don't reconcile just the bank account and call it good. Don't trust your QBO register cleared transactions. Just because you have set up your accounts to download through QBO bank feeds automatically doesn't mean they are reconciled. We have all had a QBO bank feeds glitch at some point where a transaction or two just mysteriously failed to download. Reconciling is the only way to prove to yourself that you have accounted for all the transactions and that your financial reports are accurate.
QBO Cash Flow Summary
If you follow all the steps and set up your QBO in the manner I described it is incredibly powerful.
Let me summarize some key steps:
Automatically post large fixed expenses in advance (I like 5 or 10 days) that affect cash by using recurring transactions.
Try and put all of your expenses on a credit card. The more you can set up automatically the better.
Set up QuickBooks Online payments and only accept bank ACH or credit cards. Stop accepting checks.
Sort your bank register by cleared status.
Update your bank feeds often. Ideally daily, but at the least weekly.
Analyze your real cash balance often.
Reconcile your accounts monthly
Did my suggestions help?