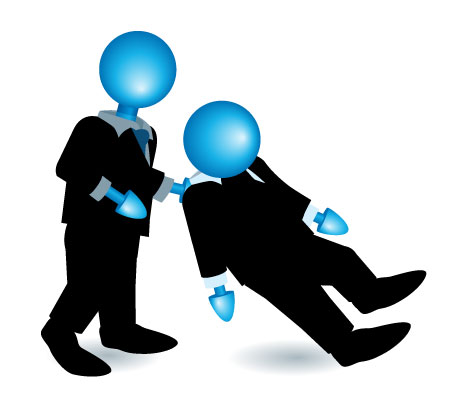 Does your bookkeeper actually care about your small business? I mean, do they truly care about you and your business and do they prove that to you with their service? If your bookkeeper doesn't show you that they care about your business then you need to find one that really does care. We often get new clients because they previously had a bad bookkeeper. Business owners' fire bookkeepers because they get sick of errors, get tired of excuses, and won't tolerate negligence with their business bookkeeping. I can't blame people for firing their bookkeeper's for legitimate reasons. It's not like they are asking the world, it's not rocket science; it's just bookkeeping. Here are five examples of simple ways that your bookkeeper can have your back.
Find Errors
Your bookkeeper should be finding errors that occur. Everyone makes mistakes (your bookkeeper will as well) so you need to double check things. Customers will underpay and vendors will overcharge. Let me give you a quick real life example of an error we found when we started with a new client. After the first month of working with this new client we were reviewing their financial statements. The merchant fees looked incredibly high compared to the sales volume. When we calculated the merchant fee percentage it was way off compared to the quote we were given. When we inquired with the merchant processor they were charging $0.80 per transaction instead of $0.08! The processor sent our client a check for several thousand dollars and then fired the processor (and they deserved it).
We have also found costly mistakes by previous bookkeepers that were not caught by the CPA firm when the taxes were filed. When you show errors like this to clients they get upset with the people making the mistakes but they love you. Simple double checks on your financial data can often reveal mistakes that are costing you a ton of money. Your bookkeeper should be internally auditing your data to ensure accuracy without being asked.
Track Down Receivables
Cash flow is such a vital part of running a small business. Cash flow suffers when accounts receivable balances are neglected. It is great when your sales team produces new customers and invoices go out. However, if you don't get paid then you really haven't closed the sale. Here is one of the most common questions we get in bookkeeping: "If my sales are so great why is there no money in my checking account?" A simple balance sheet reveals the problem; all sales are sitting in accounts receivable.
Your bookkeeper should make a habit of tracking down accounts receivable. They should set up QuickBooks to email invoices and statements, which will expedite your receivable process. Your bookkeeper needs to look at the AR aging report at least once a week and follow up with delinquent accounts. Paying attention to AR is a great way to boost cash flow and shows that your bookkeeper cares about your business.
Deliver Financial Reporting
Your small business financial reporting is such a crucial piece of running a successful business. The process of bookkeeping produces a lot of valuable information. However, you need to know how to extract that valuable information and present it in a meaningful manner. There are two types of bookkeepers; data entry bookkeepers and those that understand how bookkeeping can help run a business. Businesses that maintain a bookkeeping system, but then don't use it as a tool really frustrate me. Properly maintaining an accurate bookkeeping system for a small business is a lot of work. If you go through the trouble of maintaining your bookkeeping then you should use it to help you make business decisions and grow. Financial reporting is a great tool that your bookkeeper should be giving you that can be a real asset to you as a business owner.
Help Your Business Grow
Your bookkeeper should be one of your advisors that can truly help your business grow. If you don't have the confidence in your bookkeeper to ask them to help you make business decisions then you should replace them. I am completely serious about this last statement. I think many business people have a low level connotation with the word bookkeeping or bookkeeper. When you say bookkeeper to most people they immediately think low level data entry person. Like I said earlier those types of bookkeepers certainly exist, but you should not have a goal to have a bookkeeper like that. Your bookkeeper should act more like a financial controller and a business partner.
Treat You Like A Partner
Your bookkeeper should act like a business partner, not just a bookkeeper. Even though we are an outsourced service, I believe that we act as a financial consultant for our clients. Certainly I won't chime in with advice in any aspect of business that I don't have sufficient knowledge in. However, running an outsourced bookkeeping service has made me pretty well rounded in many aspects of business. When you work with us you get the knowledge and experience that we have gained through working with hundreds of different businesses. We act as financial controllers for all of our clients. When we give advice it is as if we are a partner in your business.
If you have a good bookkeeper they should have your back; meaning that they actually care about your business and prove that to you through their actions every day. Asking for more from your bookkeeper and pushing them to be better is not asking too much, it's just called being a good business owner.
So, let me ask you again does your bookkeeper have your back?
Photo Credit © Dollar Photo Club / abf