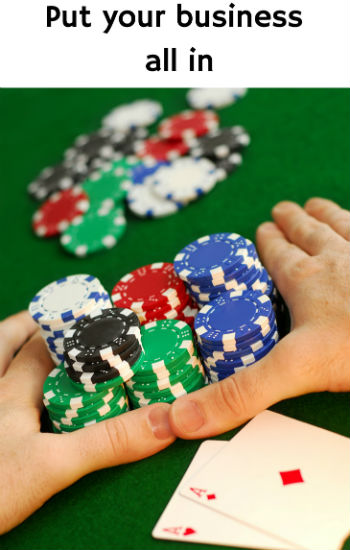 I started playing poker right around the start of the craze over the World Series of Poker more than a decade ago. All of a sudden, Texas hold 'em blew up. I played in my first Texas hold 'em tournament in a casino for a $100 buy-in, had 90+ opponents, and took first place, winning over $2,000.
So I'm watching the World Poker Tour the other night and they were interviewing an up-and-coming poker player, a successful small business owner who recently turned to professional poker as a career. She said something that struck me. I don't remember the exact words but something along these lines: "Poker is similar to running a small business in that there is a lot of risk and you need to figure out how to manage it if you want to succeed." I agree, starting and running a small business is very risky and here is my advice on managing risk.
Insure Your Business
One of the areas where I often see business owners making a mistake on is under-insuring themselves and their business. When people ask me for advice on insurance, I tell them the same thing: It's all about protecting yourself and your business against life-altering events.
There is the no brainer stuff you need, like general liability, workers comp, etc. However, when I look at both my business and personal insurance, I am all about protecting myself against events that could have a significant impact on my life. If I unexpectedly pass away, I want to minimize the impact on the business and on my family; I do so with a key man insurance policy. I also am a big advocate of an umbrella policy for both your business and your personal life.
Educate Yourself
You are certainly not walking into a casino to play in a big poker tournament without educating yourself. You can do so through reading books, practicing online, asking successful poker players for advice, etc.
The same principle applies to running a successful small business; great entrepreneurs are always educating themselves. I read a ton to try and educate myself to be a better business owner. I read books, blogs, eBooks, white papers, etc. I read whatever I can get my hands on that is good information that can help me in the areas where I am currently being challenged.
I also spend a lot of time asking trusted professionals in my network for advice. There are a lot of good business consultants out there whom you can pay to help you; however, there are also a lot of bad ones too. I tend to stay tight with my trusted business network and ask for referrals to people they know are good with subjects where I need help.
Plan Your Future
Many great poker players swear by meditating on a daily basis. They say that visualizing themselves winning and making no mistakes is crucial to their success.
The same principle holds true in the business world; having a clear vision of where you want to go is important. Crafting a vision statement for your small business is extremely important, but often skipped by an owner and dismissed as a non-critical item. Having a vision statement helps you clearly identify where you want to go. You need to think about specifics; don't make your vision statement too broad. Additionally, make sure your vision is clearly communicated to the key members of your team so they can help you realize your vision. The daily actions of you and your team should be fully supportive of your overall vision.
Execute On Your Strategy
Poker players who win say that you need to play tight, but aggressive (at least according to Matt Damon in the movie Rounders). So in other words, you need to have some sort of strategy before entering a game of poker.
The same holds true in business: Having a clear strategy of how you will succeed is crucial. Oftentimes in business you will find yourself putting emphasis on different areas based on what is happening. You will go back and forth, trying to decide which is the most important aspect of your business. Are sales the most important? What about marketing? What about hiring the right operations team?
The truth is that the most important aspect of running a successful business is the ability to properly execute on a strategy. Another thing to note is that your strategy needs to adjust as your business grows and your market changes.
Make Adjustments As Needed
Good poker players are masters of making adjustments when needed. They read the situation and their opponents and then make key strategic adjustments when needed. When to bluff? When to raise? When to play your position? When to fold 'em and get out of the way?
A good business owner is not 100% stuck on their strategy. While executing a strategy, a business owner needs to be aware of what is going on, both internally in their business and externally in their market. If a major disruption is imminent for the industry, those businesses that don't make the necessary adjustments get eliminated.
Is playing poker risky? Sure, but there is a way to manage risk. Poker is all about consistently making really good decisions. You learn how to become a better poker player by practicing a lot and learning from both your mistakes and your successes. The same holds true in business.
How do you manage risk in your small business to remain successful?
Photo Credit: Canva