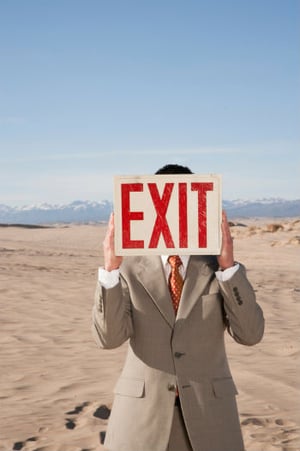 As one of the most common exit strategies, there are many reasons why successful business owners sell their companies: to retire, to pursue new opportunities, to avoid burnout – even to dodge tax changes. With a recently booming sales market, if you've been thinking about selling, now may be the time to get the most from your exit.
4 Things to Think About
Whether you lack successors, or simply want to get the cash equity out of the venture you've worked so hard to create, selling your business is a worthy goal but not always a straightforward one. To better the odds of finding a buyer and getting the best price for your company, you'll first need to sort out:
Your reason(s) for selling

How much of your business you're looking to sell

The value of your business

Who you will turn to for help with the sale
Why Sell?
Exit strategies vary in terms of when the right time really is for selling a business, so hopefully you've thought about your reasons in advance. It may not always be about getting the best price – but sometimes it is. The key is to regularly weigh your original exit plan against the value of any viable opportunities that might cross your path.
Life happens. And any time you have the chance to liquefy the value your company holds, it's well worth considering. Remember, the longer you run a successful business, the more you have to lose.
It Doesn't Have to Be All or Nothing
Sometimes selling is just another word for restructuring, merging, or partnering up. Many entrepreneurs relinquish ownership of a portion of their businesses as part of a bigger strategy. Millions of dollars' worth of merger and acquisition transactions take place every year in the U.S., so whatever your objective is, there is a deal structure out there to accommodate it.
If you've grown tired of running your business, getting acquired won't always yield the best price if you're looking to liquidate 100% of your equity. But for owners seeking a partial exit, the benefits of assuming a gradually diminishing operational role will free you to enjoy more leisurely pursuits.
How Much is Your Business Worth?
Ah, now that's (hopefully) the million-dollar question! Like any other product, your business as a whole is typically worth as much as the market is willing to pay for it. But the internal elements that go into determining its value include:
tangible assets like your equipment, inventory, and property,

your client lists,

any trademarks or patents you hold, and

the amount of goodwill you've created
Business valuation methods can be asset-driven or based on future earnings. And if you're incorporated, you'll also need to decide whether you're selling assets only or the entire company through a share sale. Either way, the economic landscape and what similar companies are fetching will both play a role in the price you can get.
If you've decided to sell, bear in mind that your business will be worth more to prospective buyers if your financial house is in order. Make sure your accounts and business records are complete and up-to-date, your taxes are paid, and your liabilities are as minimal as you can realistically make them. A tidy, organized business holds far greater value than one that shows signs of neglect.
Seek Professional Help
No matter when or why you decide to part ways with your business, it's likely to be an emotional occasion. Working with a team of professionals can help ease the transition by providing the objectivity you need to ensure no detail goes overlooked and that you maximize the success of your sale.
Consider seeking advice and guidance from:
a small business consultant or strategy specialist to plan and carry out your exit and determine the best time to sell,

an accountant or professional business valuator to get your finances in order and figure out just what your company's worth,

a commercial realtor or broker to track down potential buyers and assist with negotiations, and

a legal professional to draw up and interpret the many documents that form part and parcel of selling a business, including sales and purchase agreements
One of the worst times to unload a commercial venture is when you have to, rather than when you're ready. So, have a plan but stay flexible. As an entrepreneur, an open mind is often your most important asset when it comes to capitalizing on the value you've built up in your business.