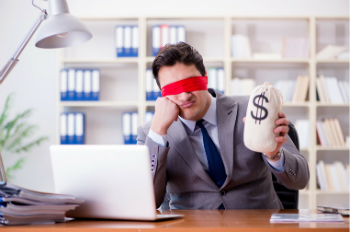 It's in the nature of the game that you'll be forced to deal with some level of risk in operating your small business. While some commercial pitfalls can be avoided, many are inescapable and require careful management to keep them at bay.
Fraud, liability, and corporate non-compliance are just a few of the hazards that every small business must learn to guard against. And the very best way to mitigate your personal and professional exposure is through the adoption of expert bookkeeping services, and a sound risk management plan.
Financial Exposure
Any time you stand to lose any amount of the value you've contributed toward your business investment – be it in the form of capital funds, time, or your personal reputation – your bottom line is vulnerable to financial exposure.
Business owners invest countless hours – and in many cases, countless dollars - to ensure the ongoing success of their organizations. But with each new working day, they're inevitably exposed to the threat of:
financial loss,
a tarnished business image, and
the complete dissolution of the company they've worked so hard to create
Financial exposure is simply another word for risk, and every inherent peril your company faces is tied to the possibility of losing money in one way or another.
Understanding the Dangers Your Business Faces
Before we look at the basics of risk management, let's consider just a few of the most common dangers that virtually every small business is exposed to on a regular basis.
1. Failure to Comply
Many business owners are so focused on turning a profit that they fall short in safeguarding their financial success from the consequences of non-compliance. When your company fails to comply fully with state and federal regulations for things like licensing, hiring practices, or workplace health and safety procedures, you leave yourself vulnerable to:
lawsuits,
government audits,
fines and penalties, and even
business dissolution
Non-compliance repercussions can be both severe and costly, and taking steps to avoid them should be one of your company's top risk management priorities.
2. Internal Fraud, Wage, and Tax Issues
Think you're safe from skimming, check tampering, or misappropriation of funds because you only employ a handful of dedicated workers? Better think again. Occupational fraud at the small business level (fewer than 100 employees) translated into a median loss of $150,000 according to the ACFE's (Association of Certified Fraud Examiners) 2016 report - with small businesses suffering the same level of loss as much larger organizations.
Meanwhile, at the other end of the financial spectrum, inappropriate wage payments, inaccurate tax deductions and remittances, and improper tax reporting can lead to stiff government fines and legal judgments. And no amount of pleading ignorance to the above will protect your company from being penalized.
3. Liability, Disability, and Property Damage
Regardless of the nature of your business, there's always the chance that you, your property, your personnel, or your customers could come to harm as a result of associating with your organization. Risks include both the physical and the non-physical, and may involve such events as:
food poisoning at your restaurant,
a fire that destroys company equipment, documents, or buildings,
an unanticipated accident or illness that prevents you from working
Security breaches, damage to sensitive or financial data, and even the loss of key personnel can all negatively impact your company's productivity and revenue stream.
Risk Management Essentials
Prioritizing your risk management needs is the first step to protecting your company. While a professional business consultant can prove invaluable for determining which risks pose the greatest threat to your particular organization, there are three elements that form the foundation of most risk management plans.
1. Becoming Familiar with State and Federal Business Laws
Local and federal compliance guidelines are a quagmire of existing and evolving rules and regulations. Taking the time to familiarize yourself with the ones that directly impact your organization is a must for avoiding a violation, and having the government shut your business down.
Consider seeking professional help to better understand everything from the local permits your business needs, to what you can and cannot ask while interviewing a job applicant.
2. Hiring a Quality Bookkeeping Services Firm
It goes without saying that proper record-keeping and accounting procedures are critical to ensuring that everything from your company expenses to your annual tax returns are accurate, complete, and reported in a timely fashion.
Hiring an online bookkeeping company will save you money in the long run by greatly reducing your exposure to fraudulent employee expense claims, improper payment of overtime hours, and missed government reporting requirements.
3. Investing in Small Business Insurance
While it's impossible to avoid risk entirely, what you can't circumvent, you can usually protect yourself against financially. Small business insurance is available to cover a wide range of commercial perils, and many agencies are quite willing to create customized policies for non-standard professional activities or circumstances.
As a minimum, your business should take advantage of general liability insurance to defend itself from the high costs of legal fees associated with everything from libel charges to property damage.