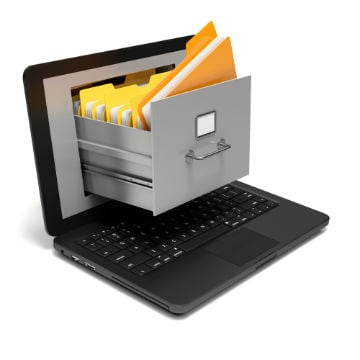 Creating a digital bookkeeping system right from the beginning is a step that we highly recommend. Paper is becoming irrelevant and reducing it in your work place can increase efficiency.
Below are a few reasons that you may want to create a digital bookkeeping system in QuickBooks.
Go Digital On Day 1
Invoicing
It really doesn't make sense to do anything but digital invoicing. If you send all invoices through email they have a higher chance of getting seen. Additionally you will not be wasting time by mailing it and waiting for the snail mail to arrive at your customers' offices.
Your clients' will thank you for emailing invoices since you will be helping them create a digital bookkeeping environment on their end.
Popular options include Stripe for online payments as well as FreshBooks. Handling all of your invoicing digitally will decrease the amount of time it takes to get paid, which will decrease your accounts receivable in increase your cash flow.
AP and filing
Bringing your accounts payable into a digital environment will also help. You can consider services such as Bill.com, which will allow you to handle your accounts payable in a cloud environment.
You can also go a simpler route and just use Dropbox.com to keep track of all of your pending and archived accounts payable items.
Handling your AP in a cloud based environment will promote a digital filing system. Storing all of your files in online storage options such as Dropbox will create a safe and reliable cloud-based filing system.
Digital Is Better For An Audit
One thing about the IRS is that they don't care if you lose a paper invoice or the receipt fades. If you haven't noticed most receipts fade after a year or two. If you find yourself in an audit situation and all of your receipts are faded the IRS won't care, but they will disqualify the deduction.
Having your receipts in a digital format is the only way you can be certain your receipt won't fade. Your digital copy won't be worth anything if you can't find it or it is lost due to a computer failure.
Make sure to store your digital documents securely in the cloud with Dropbox, Shoeboxed or your preferred method of online storage.
Digital Bookkeeping
Going digital with your bookkeeping does not necessarily mean QuickBooks online, FreshBooks or Xero. You can also use your favorite desktop accounting software, which is often a more sophisticated and powerful solution than online versions.
There are many QuickBooks desktop hosting services available such as Insynq. I often see businesses automatically default to QuickBooks online simply for access.
What they end up with is a subpar program that comes with a monthly fee. The desktop version can be put into an online environment and you get a much better program.
By using the above suggestions you will create a digital bookkeeping environment that works for everyone.
Your bookkeeper will have uninterrupted access to the information needed to keep your books updated. Additionally, you will both have access to the books, which will allow you to use your bookkeeping system to make key business decisions.
Photo Credit © Dollar Photo Club /beawolf