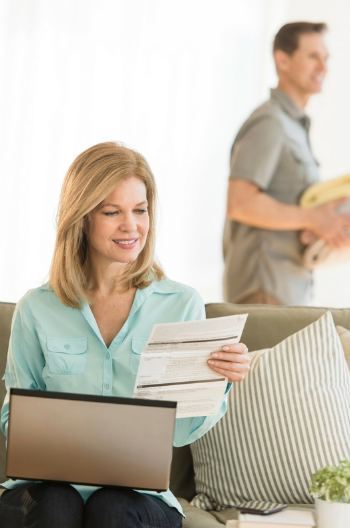 In April 2017, Intuit launched the first beta version of QuickBooks Online Bill Pay, an add-on bill pay service completely inside QBO. And since its launch, it's caused quite a stir!
The QBO Bill Pay feature has been running live for several months now, and only a few features remain in beta. This service makes paying bills more efficient by allowing you to both enter bills and pay them within QBO. When you click "Pay Bill", QBO Bill Pay will not just record the payment in your account system – it will actually send a wireless or check payment to the vendor for you. Instead of paying your utility bill and then entering it into QBO later, you can record the bill and pay it all from QBO.
This could save you lots of time, but….
I know you're wondering if it's really that easy. (You didn't get where you are by accepting everything at face value now, did you?)
Well, I've done the digging! And I'm going to tell you everything you need to know to decide if QBO Bill Pay is right for you.
How does QBO Bill Pay work?
QBO Bill Pay is an app powered by Bill.com, one of the top-rated bill management apps in the Intuit App Center. What does this mean? It means that QBO uses part of Bill.com's platform and network to ensure secure and fast payments to your vendors. You get some of the same services that Bill.com users enjoy, though not all of them. Bill.com offers a variety of services including receivables and international payments at several pricing tiers. QBO Bill Pay is a streamlined version that costs less and is focused solely on paying vendors and suppliers. To use QBO Bill Pay, you will be asked to create a Bill.com account, but you will only pay for the streamlined QBO Bill Pay version. After that, all work can be done right within QBO.
Set-up
You can sign-up for QBO Bill Pay by clicking "Learn More" on the alert banner in the Expenses window. A new launch page will open where you can click "Get Started" to begin setting up your new Bill Pay account. There's a pretty strict verification process you must complete to verify your identity and permission to use company bank accounts. Follow all the instructions carefully. Once you have been verified you can complete your account set up and start entering bills.
Adding and Paying Bills
You'll be able to add a bill from the Expense window or the Quick Create (+) icon. You can add all the details of the bill like normal, but now you'll have a new option to pay a bill.
To pay a bill, simply click the drop-down arrow next to the bill and select "Pay Bills Online". A new Pay Bills Online window will appear where you will be able to schedule all the details of your payment, including date, amount, adding vendor credits, and choosing a payment method.
Inviting Vendors/Suppliers to Accept Bank Transfers
If you plan on paying vendors with an electronic transfer, you will first need to send them an invitation to receive transfers from you. Click "Set up Bank Transfer" under a vendor's name to initiate an invite. A search window will open where you can search for that vendor in Bill.com's vendor network, or you can type in their email to send the invitation directly. You will be notified when your vendor accepts the invitation. Until the vendor accepts the transfer invitation you will only be able to pay them by check. To send all your vendors a bulk invitation, click "Set up vendors for bank transfers."
How and when will my payments be delivered?
There are two types of payment methods, each with their own delivery times. When you select "Pay Bills Online", you are actually scheduling a payment. You select the amount, payment method, and payment date, then click "Submit." If you scheduled the payment before 6 PM PST, the payment will begin processing on the next banking business day (excluding weekends and holidays). Or you can select a different future date. Below is a summary of the payment types and their delivery schedules.
ACH (electronic bank transfer)
The first 5 payments will take 4 days for delivery. After that, payments will arrive in 2 days. The arrival date will be listed in the Bill Pay window as "Arrive by."
Example: (2-day arrivals after first 5 payments)
Day 1 – Schedule payment
Day 2 (or scheduled payment date) – Funds are withdrawn from bank
Day 3 – Funds arrive at vendor's bank
Check
Paper checks are mailed out via USPS the following business day if they are under $5,000. An estimated arrival date will appear in the Bill Pay window as "Est. arrival."
Example:
Day 1 – Schedule payment
Day 2 – Funds are withdrawn from the bank. Check is mailed
Day 3-TBD – Check is delivered on estimated arrival date. Inuit cannot guarantee USPS delivery on any specific day.
Payments of $5,000 or more require at least one extra day of processing, so you'll want to factor that in when scheduling large payments. Intuit does not limit to how much money you can schedule for payment per day; however, you should make yourself aware of any withdrawal limits set by your bank to avoid fees or overdrafts.
How much does it cost?
QBO Bill Pay cost a monthly subscription fee of $9.99 plus transaction fees. To put that in perspective, that's about 1/3 the cost of full-service bill management apps. Users are charged $0.49 per ACH payment and $1.49 per paper check. It's a good idea to check your bank and credit card statements to get an estimate of how many bills you'll want to pay with QuickBooks. From that you can estimate how much your monthly transaction fees will be.
Can I have my accountant/bookkeeper set it up and pay bills for me?
The short answer...No. Only users with a Master Administrator or a Company Administrator user role can set up and use the Bill Pay feature. If you try to have your accountant set up Bill Pay for you, it will treat the accountant as a customer and the set up will fail.
However, if you already have a bookkeeper on staff that you have given an Administrator role in QBO, they will be able to access Bill Pay after they have gone through the verification process.
Already have a Bill.com account?
If you already have a Bill.com account that is synced with QBO, it will not be compatible with QBO Bill Pay. You must cancel your original Bill.com account. You can then create a new Bill.com account during the QBO Bill Pay sign-up process.
Intuit claims that it is possible to delink your Bill.com account from QBO and use two separate Bill.com accounts for your QBO Bill Pay and other Bill.com services. I do not recommend trying this. It requires calling Bill.com to help with the delinking, and I have not seen any reports of this method working correctly. Additionally, you end up being charged for both accounts.
If you're not sure whether you should be using QBO Bill Pay or full-service Bill.com, you can take a look at this side by side comparison.
Or check out this article by fellow SLC Bookkeeping writer, Austin Walker - The Biggest Advantages of Bill.com, and How They Help You.
So, do you think this is a good bill pay solution for you? What other bill pay services have you tried and liked?