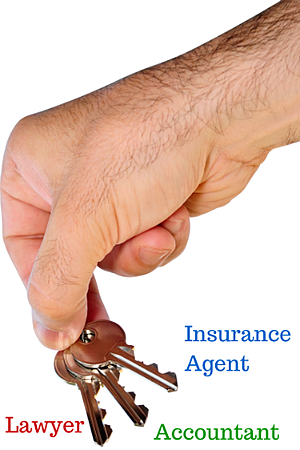 Every small business owner is going to need some help along the way. There are going to be key advisors you will need in order to succeed in the small business world. Even the advisors need advisors. Do you think your financial advisor doesn't have help in other areas? I know that all good advisors also need help to become successful. Although there are a lot of people that you will need help from along the way I think there are three key people that every small business owner needs. Every small business owner needs a good accountant, a lawyer, and an insurance agent.
Accountant
Every small business needs accounting. There is a huge difference between a CPA and a bookkeeper and you need to understand it. In general a bookkeeper will handle your day to day accounting activities. They will keep the business running and track your income and expenses.
Your CPA should advise you on taxes and tax planning. While many CPA firms will try and take on bookkeeping, most of them don't specialize in it. Use your bookkeeper for the day to day activities and your CPA for the tax planning aspect.
Another area that your CPA can aid you in is exit planning. CPA's are usually one of the key people involved when a business is sold. Since most CPA's have seen many business owners exit they should be one of the main people that you consult with on your exit plan. They can help you with business valuation and the tax implications of exiting a business. Another person that will be heavily involved with your exit plan is your lawyer. Your lawyer will play a different role by helping you protect yourself legally when selling a business.
Lawyer
You need a good lawyer! If you are a small business owner please read the previous sentence; you need a good lawyer. It's so easy when you start out to have the attitude that lawyers are too expensive. The bottom line is that good lawyers protect your ass and are worth every dime.
If you only knew how exposed you were as a small business owner you might change your mind. Even when you get a consultation by a lawyer you probably think they are some overpriced person trying to take your money. The reality is they have been around the block and know why your business is vulnerable.
Lawyers can be a great resource to help you with critical documents like employee agreements, buy/sell agreements, procedures manuals and other important documents that you may not have in place. Human resources is an area that many small business are vulnerable in but they don't really understand how or why. Your lawyer can be a great asset in putting the right HR procedures and agreements in place.
Get a really good lawyer right from the get go and don't even think about skimping in this area.
Insurance Agent
My small business insurance agent is the best. Seriously, I wouldn't trade them for anything. I have insurance agents cold call me all the time and I just tell them there is no way I am changing. I have an established relationship, I can pick up my phone at any time and call a direct cell number, and I have always been taken care of.
When it comes to insurance my strategy is really simple; protect myself and my business against big life changing events. Many people look at insurance as a waste of money. But can you really blame them? You put in a claim and your rates go through the roof, or worse your coverage gets dropped.
Here is the deal though; you are not going to get by in business without insurance. You might as well work with someone that gives you the real story. You don't want to work with someone that only wants to sell you a policy to put another buck in their pocket. Make sure you are covered, but not over-insured.
While there are many people that are going to have a huge impact on your business these are the three advisors that I think every small business needs.
Who are your key advisors as a small business owner?