At some point along the lines, you're going to make a mistake. Some mistakes will be larger than others, but for the most part, what's great about mistakes, is you will either learn something beneficial, or the mistake can be fixed.
Your books are not immune to mistakes, and neither is your QuickBooks software. That is why account reconciliation at least once a month, if not once a week, can help to improve your company and reduce mistakes. Reconciliation of your account is the process of comparing monthly transactions of a company's financial accounts with montly statements from the banks or financial institutions that serve you to keep everything in check.
There are more than five ways that reconciliation can benefit your business. However, Salt Lake City Bookkeeping feels that in order to benefit restaurants and small businesses best, the five that are the most important to growth and success are: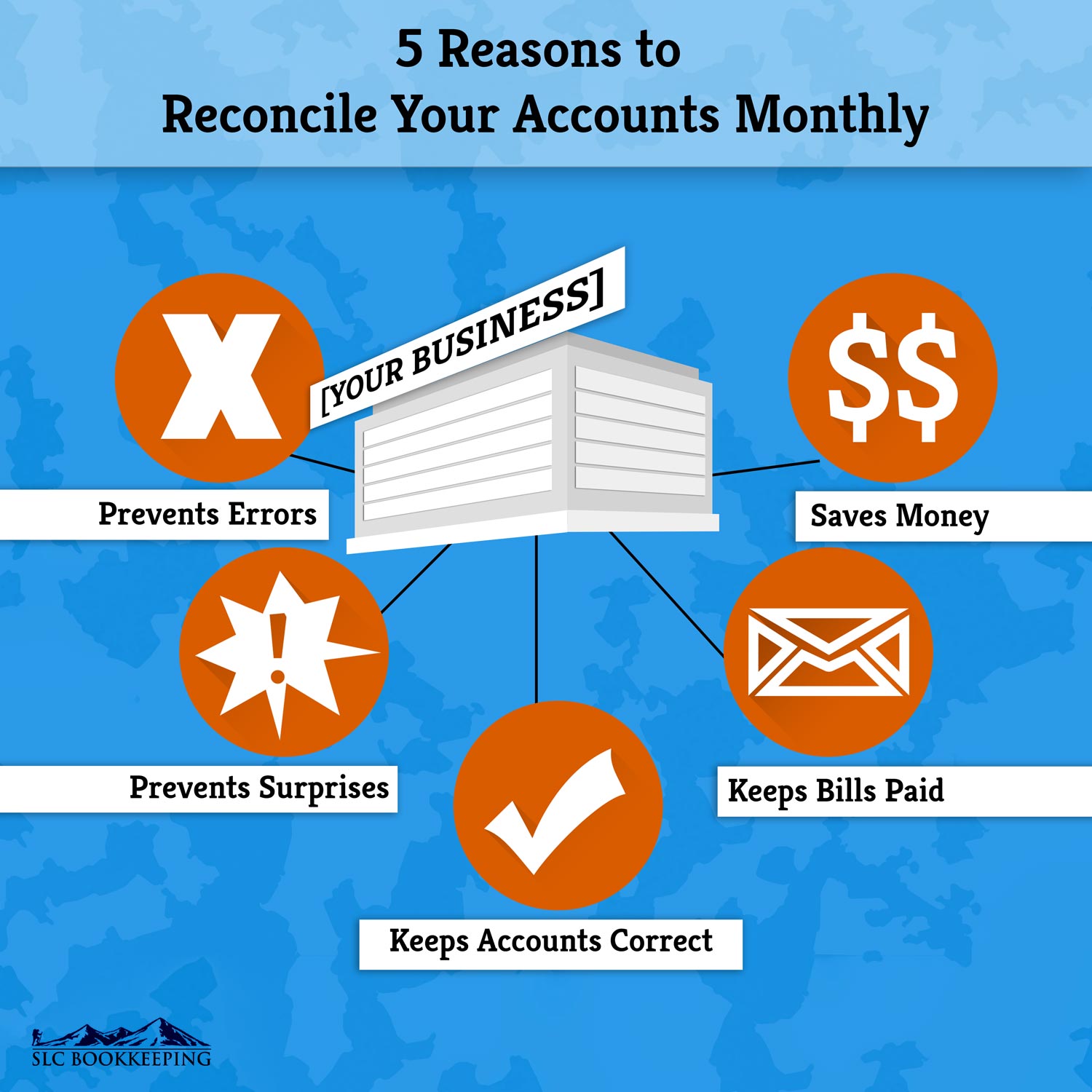 1.) Eliminates accounting errors: Keeping the books reconciliated every month will help catch mistakes before they become a big problem. Finding a problem that throws off the books vs. the bank can decrease the amount of effective time you're using to keep the books up to date. Eliminating errors as they come up can also keep them from becoming a problem in the future
2.) Keeps surprises from hitting your account: When I receive a check in the mail, I'm depositing within the next couple days. Sometimes, you can have vendors or other payable accounts that decide to wait to cash a check for a month or two. This can throw off the books. The reconciliation will make sure that although the cash hasn't cleared the bank, the books are up-to-date, even after the late payment is cashed by the appropriate vendor.
3.) Keeps your business deposits correct: Although most banking transactions are made electronically now, there are still human hands that can be depositing cash into the bank. Human errors can completely change the way that your bank statement look. As a security measure, it helps to make sure that after the monthly reconciliation is done, all measures are taken to minimize the amount of human errors that go unnoticed.
4.) Keeps your bills paid: Overdrafts or late payments are something that can make your business seem less credible, and give a poor likelihood of having companies make exceptions or give help in the future when you're in a pinch. Using monthly reconciliation can ensure that all of the company's bills are paid, and that you avoid having to pay any overdraft fees.
5.) Finally, it saves you money: Time is your most valuable asset. Having the account reconciliation done once a month, rather than every couple of months or once a year, can substantially reduce the amount of time spent fixing the books. Even though the books have been perfect for the last 5 years, doesn't mean that tomorrow a mistake isn't going to be made. Planning to actually set aside time for the reconciliation every month will help save your time.
What other benefits do you believe that this process can bring to the business? Do you have any stories/examples of how bookkeeping may have helped you?