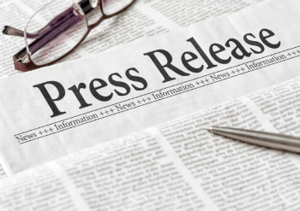 The press release has been around in one form or another for decades. But because these announcements have traditionally been associated with radio and television news broadcasts, newspapers, and other print publications, many small businesses overlook their marketing potential.
Are press releases still a worthwhile way of connecting with your audience? The short answer, according to many publicity professionals, is yes.
What is a Press Release?
A press release is technically any newsworthy business announcement – written or recorded - that gets shared through a media network. In document form, today's press release is brief, follows a prescribed format, and delivers key information about a very specific event, such as:
the new product or service your business is launching,

the community event your organization is hosting,

the new branch or office your company is opening, or

the award your firm just received
You can also think of the modern press release as yet another opportunity to build valuable relationships with your target audience. By letting the media know about significant events involving your business – and by posting your own press releases – you can keep readers informed and improve your brand presence.
How Can Press Releases Help Your Business?
The more exposure your business gains through brand awareness strategies, the more customers you're likely to attract. When executed well, the press release contributes to that exposure.
Many journalists and media personnel like receiving press releases because they offer a concise, ready-made news story that saves time and effort. Pre-packaged news releases also help media services reduce costs, while increasing the amount of material they can put out.
Press releases can be a cost-effective marketing vehicle at your end as well because they often require little more than an investment of time to create and distribute. Like most forms of marketing however, consistency, relevancy, and remarkable content are critical for news announcements involving your business.
By working with an accepted format, and creating engaging, informative content for your company press releases, you'll be more likely to:
have news of your professional milestones, updates, and other business events shared with the public,

help your business stand out as reporters, analysts, and readers become more familiar with your brand,

benefit from the ripple effect when journalists and other writers come across your press release and follow up with more in-depth coverage
While it can be tempting to exaggerate your organization's accomplishments - or to spin certain facts to make them sound more exciting - remember that published press releases become a permanent part of the public domain. Protect your personal and professional reputation by always sticking to the facts and reporting accurate figures.
Getting the Best Results from Your Press Release
Your press release should be succinct (no more than a page is ideal), use language that's easy to understand, and be written in the third person. Official news announcements are more than just a haphazard collection of facts, however, and public relations professionals usually follow a standard format when creating press releases.
Once you've decided on the specific business event you want to share with followers, industry peers, and your community, here are the structural elements you'll need to include in your press release document:
Headline – Your headline is critical because it not only has to summarize your news, it has to grab the attention of media personnel. Use action verbs, and do your best to make it irresistible.
Dateline – The originating city of your press release, and its release date.
Introduction – This paragraph answers basic journalism questions about your event - who, what, where, when, and why – in a way that explains why the reader should care about and share your announcement.
Body – Offer details or statistics that will strengthen your narrative, but avoid repeating what you've already said. Consider describing what led to your event or announcement, or what it might mean in the future. Always include a representative quote from a company executive or someone central to the news you're announcing.
Boilerplate – A short "about us" blurb that describes what your company does. Be sure to include a link to your website.
It's common to insert a triple hashtag symbol (###) after your Boilerplate - and before your company's media relations contact information - to indicate the end of your press release.
Getting Your Press Releases Out There
There are a few steps you can take to ramp up the exposure of your company's press releases. To maximize your distribution efforts, for example, make sure you're reaching out to journalists and other media contacts who have experience covering your industry.
You can also publish press releases on your company's website or blog, with the help of a distribution service like PR Newswire, e-Releases, or PR Distribution, through email, or on your social media platforms. Finally, finding a way to connect (and physically link) your news announcement to current trends or events is a great way to help it stand out.
Photo Credit: Canva