One of the cloud solutions we use for ourselves and recommend to our clients is Hubdoc. It's a secure way to digitalize your documents and be able to upload them into different softwares, including QuickBooks. This review outlines the advantages vs. the disadvantages of Hubdoc to its competitors.
When it comes to a system for managing our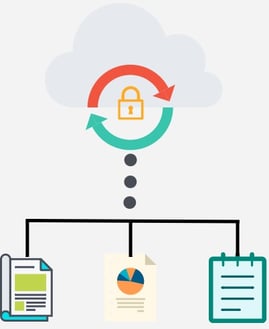 documents, ideally, it should be secure and organized. We should be able to look for a document when needed, easily find the one we want, and not spend so much time organizing our papers.
Hubdoc, a piece of document management software, is a popular choice nowadays, especially when financial information is involved. It is true that there are other applications available that are totally free, but they can only provide some of what Hubdoc offers.
Four Ways to Use Hubdoc
1. Sync your accounts – This may be the most helpful feature of Hubdoc. One can just connect their key accounts and be notified if there is a new statement or a bill that is due. You can connect your bank accounts as well as the vendors who regularly send your utility and telecom bills. Instead of logging into multiple online accounts to check your statements and bills, you can view all of them with just your Hubdoc credentials.
2. Email your documents – Upon signing up, you will be given a unique email address where you can send your receipts, bills, and any other documents from any email address. All of the attachments sent will be uploaded automatically to your Hubdoc account. Alternatively, you can send your documents to file@hubdoc.com (but only from the email address that you used to sign up for the software).
This option can be most useful for those who want their employees to be able to send their receipts directly to Hubdoc without needing for them to have access to the Hubdoc account.
3. Upload your documents – This is a good option if the documents are handy. You can simply drag and drop your scanned documents into your account individually, or upload them by batch.
4. Snap a photo with the app – You can download the app for an iOS or Android device, which would then allow you to just grab photos of your documents wherever you are and have them synced automatically with your account.
Setup and Pricing
Signing up for this application is very easy. You can even test it for 14 days to determine if it's really what you need. You can use all the features offered without providing your credit card information.
Learning how to use it is a no-brainer. It has a very simple layout that is pretty easy to learn. You can start moving your documents to Hubdoc almost instantly and you will surely figure out how to use it in no time. Thus, getting set up and getting rid of your paper documents may take less time than expected.
After the 14-day trial period, the price is $20 per month.
Accounting Integration and Backup Storage
Hubdoc is also a popular add-on for accounting software. It integrates seamlessly with both QuickBooks Online (QBO) and Xero. In QBO, transactions are being entered automatically based on the information being sent by Hubdoc. Thus, using both software packages together can totally eliminate data entry while giving you more confidence that your books are in order.
You can also connect Hubdoc to your usual cloud storage account such as Box or Dropbox. Or, you can set up the Email Forwarding option so that every new document uploaded to Hubdoc will be forwarded to an email address. It is still a good idea to have backup storage when using the software. Remember, you are dealing with your financial records – receipts, bills, checks, bank statements, and perhaps important contracts. Once you delete a document or an account in Hubdoc, it will be lost if you haven't downloaded it and saved it to your hard drive.
Areas of Improvement
With Hubdoc, you can grant access to other users such as your bookkeeper and accountant, or even other employees. But anyone you let in will have full access to your account. And "full access" means that they can also modify what you already have as well as add and delete accounts. What if a document has been deleted and there is no other copy available? Or worse, you didn't know that any changes were made; would you realize it when you searched for a document and couldn't find it?
One problem that may arise with having several people access a certain database is not knowing what was changed and who made the change. Considering that Hubdoc is specifically designed to cater to businesses and for accounting purposes, it would be good to have an audit log which the primary user can access. With this, it would be easier to check what specific receipt or bill was deleted. At least then, if there is a backup copy of the missing document, it can be re-uploaded.
In terms of user access, a lot of software packages offer the ability to restrict the role of other users. A normal piece of accounting software, for example, can have the account administrator assign accounts payable access to only one person and assign payroll-only access to the other.
Hubdoc is indeed a very easy piece of software to use, but uploading random documents may also require that you review these documents to make sure they are properly categorized. There is also an option to assign tags for better document management. Thus, these can be tasks that can be assigned to a specific person where his access can be restricted.
What are your thoughts of Hubdoc? Has it allowed you to get rid of the files in your office? Did you choose a different option? Let us know in the comment section.