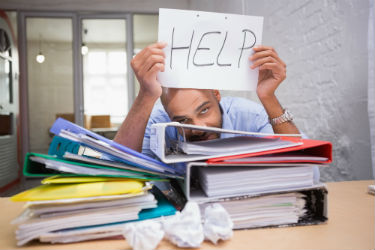 As a small business owner do you think that your business sells or helps? The old sales saying goes "ABC...always be closing." But haven't we seen a shift in that with inbound marketing and sales? Now selling is all about helping. My brother Mark Roberge the Chief Revenue Officer of Hubspot has a great interview where he discusses Inbound Sales. He is totally right, it is all about helping your prospects now. Instead of selling prospects on your services you need to sell them on how your services can help them. You need to give real life examples of how you can help and you need to do it all for free. Think about it nobody wants to be sold to, they just want your help. So how can adopting this mentality actually convert new sales and help grow your business?
Help with Free Information
There is a ton of information out there now and it's all for free. This creates a problem because not all free information is good information. However, if your business is creating free content that is valuable and informative then you have a major advantage over the competition. We have two different blogs on our website that offer up plenty of bookkeeping advice, general business advice and QuickBooks tips. We also have a SLC Bookkeeping YouTube channel that has an entire library of QuickBooks video tips.
Selling through inbound marketing tactics is all about attracting customers by offering them free useful information. I have had people ask me why I would put information on our website that literally trains someone to do bookkeeping. Just because we train a business owner to do bookkeeping doesn't mean that they should. Most business owners know that their time is better spent working on their business and not doing bookkeeping. There is a huge opportunity for small businesses to attract customers through content creation.
Don't Misinterpret the Funnel
A big mistake I see people make is misinterpreting where they are in the sales funnel. Everyone wants to close a deal for their small business right? However, attempting to close at an inappropriate time is a great way to lose a prospect. I will try to help a prospect or a lead until they ask me to close.
Let's say my first interaction with a client is via a web form. I might get some information from them about some of the pains they are having. Depending on the specifics I might call them to talk more about it. However, if possible I might send them some advice in the form of a blog post or a video.
Typically I will get a response from them thanking me for the information but that they are still struggling. I might then say no problem why don't we do a screen share and see if I can help. So we set up a time, I log in and solve their problem pretty quickly. They are impressed and then inquire "hey do you offer monthly services to do stuff like this?" bingo, ready to close.
The point here is that you need to help your prospects. Help them for free until they ask you to do business with them. Help them until they close themselves as a new customer.
Network by Helping
I hate when people show up at a networking event clearly only trying to sell. Networking is another great area where your business should be focusing on helping not selling. Nobody wants to be sold to they just want to be helped. You can help people at networking events by making great introductions. You can form excellent relationships where you help one another grow. However, don't show up at a networking event to close a deal; that is not what networking is about. Stop thinking you are selling to the people you are meeting at networking events. Instead take the approach that you are trying to sell to everyone that they know. So instead of asking "how can I help your business?" ask "how can I help your clients and business colleagues?"
Who You Need to Help
Your business should focus on helping four major people: prospects, customers, your business network and employees. We have already covered how your business should help prospects rather than focus on selling to them. You should help your customers by looking for different ways that you can help them grow. Maybe you can increase your service to them or give them a referral of a service that can help. You can help your business network by giving them referrals and referring them to other service providers that can help them grow their own business. Lastly, you should always be looking to help your employees. Whether that is additional training or creating internal opportunities you always want to help employees develop.
Who does your business help and why?
Photo Credit © Dollar Photo Club / WavebreakMediaMicro