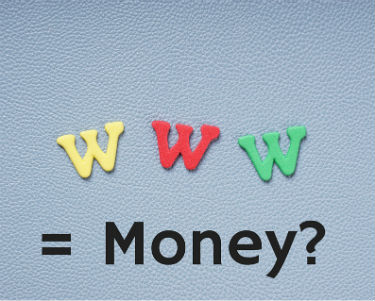 A businesses website is so important. Every business owner wants to know how to monetize their business website. A really well-designed and functional website can be very expensive and an owner wants to see a good return on their investment. In today's business world, your website can be one of the first things a prospect sees. Even if you get a referral or meet a prospect via networking, there is a strong chance they will check out your website before they contact you. Therefore, your website is incredibly important. Here are four tips for monetizing your website from a non-marketer's real world experience.
Publishing A Brochure Website Won't Cut It
If you are going to publish a website that is strictly a brochure of your services, then don't even bother. Today, customers want to see a modern, updated website that is easy to use and helpful to them.
You are going to need a website that is well-thought-out, with a nice modern design. You want your customer to get a feel for what it is like to work with you, not just what you offer. Think about your customer's perspective; prove to them that they should work with you. Make sure your website is trying to help them.
You also want it to be very easy for your prospect to contact you if they want to reach out. You should have well-thought-out calls to action and various offers, depending upon where your customer is at in the sales funnel.
Write Extraordinary Content
You have heard the phrase, "Content is king," but now context is king. In the past, businesses could produce good results by just pounding out content. However, as Google adjusts their algorithm, it is clear that both the amount of content you are producing and the quality of that content is important.
You should focus on content that is helpful to your customers. Don't just continue to produce promotional content. Stop trying to trick Google and start focusing on helping your prospects.
Publish Often And Consistently
Not only do you need to produce high-quality content, but you need to do it often and consistently. So the obvious questions are, how much content and how often? I would say that there is no such a thing as too much content. What you need be concerned about is maintaining an excellent level of quality content.
So, as a small business, how much content can you realistically produce? You have limited resources and a limited budget, so do what you can afford. If you can produce at least one or two pieces of content a week, that would be a great start. Content can consist of a blog article, an infographic, or even a short video.
The other important piece of content generation is staying consistent. Don't set yourself up to fail here by setting unrealistic expectations. If you can only produce one piece of content a week, then that is fine; as long as the quality is good. The big mistake I see small businesses make when it comes to inbound marketing is a failure to commit. Most small businesses give up too early when they don't see results right away. A good content strategy is a long-term strategy with a big payout.
Content Distribution
The last piece of advice I have is on how to distribute your content. If you are going to produce all of this content, you want to be sure you have a plan in place to get it out to your audience.
Certainly social media should be a part of your content distribution plan. But my advice is not to spread your business too thin in social media. Focus on the two or three social media platforms that are best for your industry and put all of your effort into those.
Make sure you have a way for your audience to sign up for email notifications when you produce a new blog or piece of content. A weekly or monthly newsletter that people can sign up for can be a great way to get your content out to your audience.
All of the above suggestions will eventually lead to your website producing revenue for you. If you are consistently producing high-quality content that is helpful and distributing it to your audience, they will frequently visit your website. If you have a well-designed website that is laid out in a manner that makes it easy to navigate and contact you, then you have all the necessary elements to monetize your website.
What advice do you have for small businesses looking to bring in customers through their website?