There are a lot of POS systems out there. But it can be really difficult to find which systems work best for your restaurant, and what is going to integrate with QuickBooks well.
And as a restaurant owner, it's one of the most important decisions you can make.
And now we even have started seeing contactless ordering with some of the systems. So, the order can get pretty large when it comes to building something that is seamless, and reports to your bookkeeping software in a way that can be understood.
A simple 5-step guide to restaurant bookkeeping can help you understand exactly what you should expect from building out your complete system, but for now, we're going to focus on just the POS system.
What to think about when choosing the best restaurant POS system
You'll have a lot of things to think about when selecting a POS system for your restaurant, but the most important is whether it's going to make your life easier or harder when it comes to managing your business. The last thing you need is one more thing to do, right?
In order to assure you and your team's success, you'll also have to pay attention to what the hardware requirements are for the system you need to build. These are things like cash drawers, tablets, monitors, or card readers.
Most POS companies are up-to-speed on making just about any of the hardware requirements able to be successful for you. So here are the last considerations that they don't do a good job of expressing:
1) Inventory and Product Management
Good inventory management software is hard to come by. And putting together a winning system in the inventory department is a completely separate difficulty on its own.
The inventory system in QB does not do an amazing job of being flexible for the many different items you're going to have to track, as well as monitoring food costs.
Stitch Labs is amazing for inventory management, but might lack a little on what it can offer a restaurant. Read this article to understand how to rock your inventory.
2) Payment Processing.
You're going to need to accept credit cards and debit cards to be successful in the restaurant industry. Especially if you're going to integrate contactless ordering.
You may even be considering giving your wait staff a way to take orders at the table directly using tablets. If you haven't thought of that already, there's another idea.
Before making the ultimate decision in your POS system, make sure that the cards you're able to accept are payment methods allowable from the POS system.
3) Seamlessly Reports to your Bookkeeping Software
Lastly, why give yourself another headache. One of the things that we commonly see within the restaurant industry are systems that are built well, but don't communicate to accounting software in a way that makes sense. The inventory items are off, or the daily sales summary isn't recorded properly to match the merchant service deposits made into your bank account.
When you're living on as tight margins as you already are, you cannot afford to miss any expenses, loss, or other items that can make your margins look different than they actually are.
4 Amazing Restaurant POS Systems
We've spent a lot of time working in the restaurant industry, and we've found several that we'd like to consider as the best POS systems for restaurants.
Our top picks address the 3 additional points made above that aren't necessarily handled well with other POS systems for restaurants.
Not only that, but they all seamlessly integrate with QuickBooks Online! Here they are: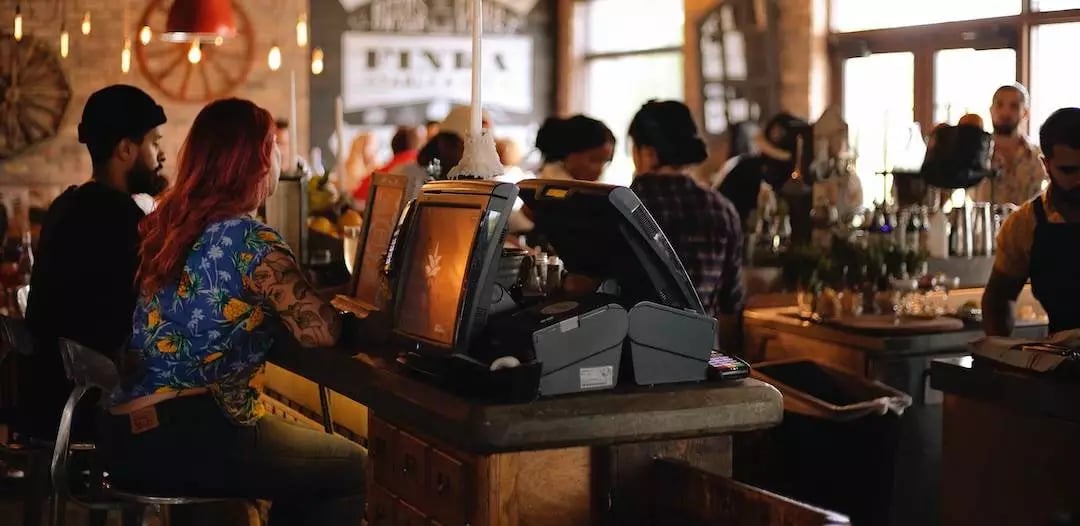 The Good
Toast is one of the newer systems that we've encountered, and it works really well.
Their POS system was specifically designed to integrate with restaurants. With inventory tracking, time management for your waitstaff, payroll management, communication with the kitchen, and processing and mobile ordering for more high-tech systems, Toast is a very capable point-of-sale system.
Another great feature of Toast is that it's scalable. If you're planning on opening a new restaurant, the system will track all expenses, costs, and revenue by location.
One unique feature is that, unlike retail orders, every customer is going to have preferences in how they want their item made. Toast lets you make the order without onions, or give the waitstaff a way to tell the cooking staff how a customer wants their steak cooked.
A loyalty program to help your best customers come back can be integrated into the system as well. What better way to automate your restaurant than by getting them back without expensive advertisements?
If you're worried about the amount of time you're going to have to spend training new employees on the new system, there is Learn with Toast. In it, there's a training portal that can give your new employees a way to reference issues as they come across them, and a way to keep one more task out of your hands.
Here's a big one: Toast helps you determine your pricing strategies. One of the biggest mistakes we see restaurant owners make is that their vendors will increase the price of an item, and they won't adjust their prices accordingly. With data giving you a chance to see what is costing you the most, you can adjust your pricing strategy to make it work for you.
Could Be Better
Toast now has multiple payment options that can more closely fit where you are in your restaurant's lifecycle. From a starter package for single location restaurants that costs you nothing upfront, to a customized option for large restaurants or chains that need something created just for them.
The payment processing fee covers all costs, meaning Toast only gets paid when you do at a rate of 2.99% + 15¢ per transaction for both card-present and card-not-present processing. The card-not-present processing feature is pretty sweet.
Make sure that you're not overlooking another service because it's more expensive than the basic version, if you need the features that are in Toast.
They also require that you're using them as your payment processor. This may feel a little binding, but their pricing remains very competitive with other payment processing agents, and gives you one last vendor you have to manage.
The Good
Lightspeed has two separate types of POS systems they've built out: one for restaurants and the other for retailers. This comes in handy as a lot of software that is built as a "software for all" has heavy advantages and disadvantages, and often get so large that they're exhausting to use.
The inventory system gives you the chance to automatically order stock from your vendors. Although some expensive items might be something you want to keep ordering yourself, this at least can help minimize the headache that can come with ordering very basic items.
Lightspeed's menu creation couldn't be simpler. With a simplistic design, as well as a feature to automatically change the menu by time. This can considerably help keep the staff from accidentally ordering items from the kitchen that are no longer available, like breakfast items after lunch has already been starting to serve. You can make changes to item pricing for deliveries versus takeout and in-house orders as well.
Raw product management. Although not usually a heavy impact on your costs, being able to manage your raw product levels can help you monitor your food costs even tighter. And the system will automatically update your inventory as items are ordered.
Could Be Better
Although Lightspeed offers an inventory management tool, it's not amazing. It works, and it can be used, but it's not an incredibly robust system. It's very basic and doesn't offer a lot of options to customize to your needs.
This is certainly not the cheapest option on our list. However, with built-in sales process guides, maybe you can make the difference up helping your wait staff increase your average ticket price.
Need help deciding which POS system works best for your restaurant?
Schedule a free analysis and we'll help you choose.
The Good
Shopkeep caters to a bunch of different businesses, especially small businesses. They do a really great job of making sure that small businesses can get a great system, but don't have to spend every penny they have.
The inventory management process has been very mindful of creating something that works for small businesses. Simplicity was a big part of the build of this software, and it's very intuitive. This means you shouldn't have to spend a ton of time training someone new on the system.
For restaurant owners, you can actually build items in the inventory management system so that you can track raw goods and create builds of different menu items, allowing for the owner to track and manage expenses more effectively.
With specific customer tracking, the owner is able to understand who their best clientele are, and track purchases to make suggestions for next time.
This software integrates really well with QuickBooks, MailChimp, and even BigCommerce.
Could Be Better

The pricing strategy is not obvious. In order to get a quote, you have to call the company. There is a great free solution for businesses that create less than $5000 worth of transactions a month, but it may take some time to speak with a sales rep to understand how much a business owner is going to have to pay.

Restaurants doing an extremely high volume of sales may want to approach something else. This software was built with retail in mind, first. So there may be some things you'd like to see in a successful restaurant that just aren't available.

The software was made to be utilized in only one location. Syncing locations up is possible, but since it wasn't meant to do this, there may be some hiccups along the way.

The Good
Square is extremely popular. Probably one of the biggest reasons it is, the software is free. You are charged 2.6% + .10 per card swipe, dip, or tap. But there's also no contract. For restaurants that have high volume and low tickets, this might be a method that ends up costing too much.
However, it is an advanced solution without additional fees. It integrates with QuickBooks, Xero, WooCommerce, or even Magento. The applications that run within the software continue to grow, as well, meaning you can continue to add value to your payment system to understand your business better. The ecosystem is one of the most valuable points of this particular POS system.
Square's offline mode offers a lot of flexibility as to where you can take your register. For mobile restaurants, this is a great solution if you're traveling somewhere without WiFi service.
The free version also offers a pretty great inventory management system. It might be worth testing out and taking advantage of before moving into a more complicated, and expensive, software service.
Could Be Better
As we've pointed out earlier, systems that are built to be the solution "for all" tend to have issues in integrations, but Square does have a separate version for restaurants. This generally helps, but there are some additional features that should be seen that really aren't that strong.
There are a lot of apps that can integrate into Square, and you can build a system that makes the most sense for you. However, that doesn't' mean that all the apps will communicate together very effectively.
There's no 24/7 live chat or phone support. For a business that's in the middle of their busiest part of the day, having a system lock up or freeze or not communicate correctly could mean a huge portion of your revenue disappears. This is one of the largest issues with Square.
Conclusion
Even though there are a lot of other options available, these are the ones we've found to be the best for restaurants specifically. If you'd like to talk about the best way to put together your restaurant's POS system, feel free to fill out the contact form below and we'll be more than happy to help you.