There was a time when all that your restaurant really needed was good food and a great location to guarantee its success. But with the advent of social media and online mobility, menu and locale alone aren't always enough to grow and maintain a healthy client base These three investments are .
1. Invest in your online web presence
Today's customers are inundated with choice. From consumer goods to entertainment venues, online competition is fierce and your restaurant needs to stand out amidst the noise.

With well over eleven billion Google searches performed every month, if you don't have a web presence that's both prominent and well-dispersed, it may be difficult for potential customers to find you.

Much like an outsourced bookkeeping service, a reputable online marketing company can prove a worthwhile investment in your business's bottom line. This is especially true because, like much of the service industry, restaurants are particularly vulnerable to word-of-mouth advertising.
Start with a great website
Your website is often the first chance your business gets to make a good impression. The more professional and user-friendly your site, the more professional and customer-oriented an image you project.

If you have an existing site, consider if it matches the following criteria:
Does it load quickly?
Is it visually appealing?
Is it mobile-friendly?
Is it easy to navigate?
Is all of your important information easily accessible?
Is your menu available?
The fact is, if a potential customer has to work too hard to find out where you are, what you serve, and when you're open, it can be all too tempting to jump to a competitor's site with the simple click of a button.
A reasonable cost for a restaurant website can range between a few thousand dollars depending on how intricate of a site you're looking to build.
While it can be tempting to minimize cost and opt for a cheap website, this is a long-term investment that can drive a lot of customers to your restaurant.

Pro Tip: Budget for a well designed website and plan to renew it approximately every 5 years to keep it fresh and current.
Pay someone to monitor your social media
Consumers tend to react more emotionally to experiences they've had than to products they've purchased. It's probably not too exaggerated a claim to state that in the dining industry, customer reviews can make you or break you. The fact is, people talk.
94% of potential diners will base where to eat on customer reviews! And they're using those reviews to pre-judge your establishment before ever setting foot in the door.

Help keep the sentiment positive by consistently reading and responding to your customers' online feedback - or by outsourcing that work to a marketing company.
By encouraging diners to leave comments on your website, and by maintaining accounts with high profile review sites like Yelp, you'll have the valuable opportunity to thank satisfied customers, take positive action to improve negative dining experiences, and show old and new clientele alike that your restaurant cares about what they think.
This type of reputation management can make a big difference to your online web presence. Marketing companies often offer this as a complement to their other services. It can be time consuming to keep an eye on all of the mentions of your business online so hiring someone can be a worthwhile investment.
2. Have a marketing budget
I was the speaker on a webinar titled How To Close Inbound Leads. I am by no means an inbound marketing expert (I'm a bookkeeper, remember?), however, I was there to give my feedback to the solopreneurs and very small business owners regarding inbound leads. As I suspected, I learned as much from others as I had to contribute.
I mostly spoke about how important inbound marketing can be to your bottom line. It's an active process that should be adjusted regularly.
Marketing can include paid ads, attending events, print marketing materials, commercials, and more.
The best part? Advertising is a deductible expense, meaning at the end of the year it's not going to hurt so bad. Why not make an investment in yourself that can increase your revenue?
Your overall marketing budget is very specific to your business. Here are some things to consider:
How competitive is your market?
What are your profit margins?
How new is your business?
Who is your demographic?
For example, a new restaurant catering to 20-40 year olds in a highly competitive market with large profit margins should invest more money into their marketing budget than an older, smaller restaurant with a broad market and low overall income.
Marketing shouldn't be overlooked as a financial investment into your restaurant business. Schedule a talk with your restaurant bookkeeper to discuss what type of budget you can allot toward marketing each quarter and test if the ROI is worth it.
Make the Most of Social Media Marketing
Real growth takes time. But the more your business can do to turn casual diners into regulars, and regulars into happy promoters of your establishment, the faster that growth can happen.
As one of the most effective ways to engage with current customers and reach out to new ones, a social media marketing strategy will help to ensure a strong social following.
From relevant, shareable content to incentives like discounts and contests, exploiting social media appropriately can enhance your professional reputation, and lead to increased sales.
Leverage Local Food Bloggers
Local online food bloggers offer a great opportunity for upping the overall quality of your restaurant reviews. Twitter users have developed some really great lists of key industry bloggers.
Once you're confident that both your fare and your service are up to snuff, invite a blogger or two to come check you out. If the reviews from your customers-next-door are valuable for spreading the good word about your establishment, the opinions of a credible foodie can be doubly so
3. Outsource your restaurant bookkeeping
Outsourcing your restaurant bookkeeping is an affordable financial investment that saves you time and streamlines bookkeeping tasks like payroll and financial reports.
A good restaurant bookkeeper also serves as a dependable advisor for future investments.
With accurate financial reporting, you can decide where to allot money for marketing your restaurant business.
This will allow you to get a correct outlook for the future of your restaurant and help you set realistic growth goals.

What advice do you have for the new restaurant business owner who is looking to grow?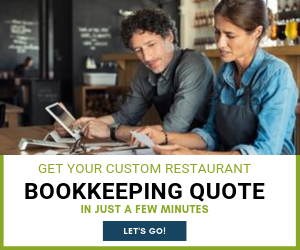 [Original post date: 07/12/2016] Comments in the comment section may be dated before the revised publish date of this article.