Restaurant bookkeeping is a fairly unique process, and through our experience, we have learned that the front of the house operations has an effect on the bookkeeping, and understanding the ins and outs is extremely important.
If you are going to run a successful business in this industry, you will need a restaurant bookkeeping expert.
Top 6 Qualities Of Restaurant Bookkeeping Experts (& How To Ask About Them In Your Interviews
):
1. Restaurant Management And Bookkeeping Experience
"Do you have any restaurant management experience or restaurant bookkeeping experience?"
As a restaurant owner, you should aim to find a bookkeeper who has both restaurant management experience and restaurant bookkeeping experience. While this may seem impossible, I assure you that these people exist.
Restaurants are unique in so many ways, but especially in the bookkeeping aspect. Having restaurant management experience will be highly beneficial in setting up a dialed restaurant bookkeeping system.
Having a thorough understanding of the way the front of the house operates will allow you to manage the bookkeeping and insert the proper checks and balances.
As said before, the margins in the restaurant industry are incredibly tight, so there are many things to keep an eye on.
Inventory management, labor, and food costs are just a few of the things that a good restaurant bookkeeper (or a great restaurant bookkeeping team) will keep a tight handle on.
There are critical financial ratios for restaurants that your bookkeeper should know about and keep active in helping the business owner manage and control.
2. Understanding Of The Restaurant Industry, Margins, And Specific Needs
"Can you elaborate on your restaurant bookkeeping experience? What sort of restaurant models have you worked with in the past?"
A good restaurant bookkeeper (or restaurant bookkeeping service) knows the restaurant industry and, therefore, in a restaurant bookkeeping system, there is no room for error, theft, or mismanagement of the restaurant.
Bear in mind that your bookkeeper may have experience in a completely different restaurant model (counter service versus sit down versus fine dining).
For this reason, restaurant owners must communicate their specific needs and desires as they pertain to the bookkeeping system.
While onboarding, make sure your bookkeeping expert or team understands the things that are important to you (and your restaurant model) so that they can deliver information on time.
3. Ability To Set Up A Customized Bookkeeping System
"Tell me about the specifics of the restaurant bookkeeping system you will put in place and how you envision managing it?"
There should be absolutely no hesitation from your restaurant bookkeeper on this.
A good restaurant bookkeeper would be able to tell you exactly how we would manage the day to day invoices. They should be able to explain in depth how they would manage cash to make sure that nobody is stealing from the restaurant.
They should understand the importance of recording sales daily and communicate how they are going to reconcile the books on a daily, weekly, or monthly basis.
Lastly, they should be able to you about the restaurant financial reporting you should put in place and what reports they would monitor.
The importance of customizing your restaurant bookkeeping system.
Throughout their explanations, it should remain clear to you that they would be able to set up a restaurant bookkeeping system that is customized.
Customizing a bookkeeping system comes down to three things: the ability to communicate, the ability to listen, and the ability to make suggestions.
If you establish a good dialogue with your bookkeeper about your needs and desires from the bookkeeping system, then you will eventually get what you want.
Your restaurant bookkeeping expert has to be good at not only communicating with you but also listening and making suggestions. This is the key to creating a comprehensive restaurant bookkeeping system that works for YOU.
4. Capable Of Automating The Bookkeeping System
"Have you automated a restaurant bookkeeping system before?"
"What restaurant POS software do you recommend and why?"
The next thing you need from your restaurant bookkeeper is the ability to develop an automated bookkeeping system. This would increase their ability to provide reports on time and help you analyze them to make sound business decisions.
A good restaurant bookkeeping should have experience and understand the importance of automating your accounts payable process, importing daily sales entry, and recommending an outsourced payroll service that works with your POS system and allows for imports into QuickBooks.
POS software recommendations
The restaurant POS software that they suggest is essential. The functionality, potential for scale, ease of programming, and reporting are all important things to consider when choosing a POS system.
However, an excellent restaurant bookkeeping expert should keep a closer eye on the reputation of the POS system company and the customer service they provide.
Restaurant POS systems come and go, so they should suggest one that is reliable with a long history of success. Additionally, customer service is a crucial piece as issues are going to come up, and you will need support.
5. Develop Customized Reports For KPIs
"Tell me about your experience developing customized reports for business KPIs."
The next skill you want your restaurant bookkeeper to have is the ability to create a customized set of reports that deliver information on your key performance indicators.
In the restaurant industry, there are some pretty standard ratios—like food costs versus sales and your prime ratio—that you need to monitor.
The goal for your restaurant on each ratio will vary with the type of restaurant (counter, full service, quick service, fine dining, etc.).
A good restaurant bookkeeper should be able to adapt to these changes and provide you on-time reports that give you significant business insight.
6. Experience Helping A Restaurant Scale
"What experience do you have with helping a restaurant scale from a bookkeeping standpoint?"
Helping a restaurant scale from a bookkeeping perspective requires a take-charge attitude from your bookkeeper.
Setting up a bookkeeping system on a hunch isn't going to work. They need to be able to understand the business in and out and be able to make adjustments to the system quickly.
Having the confidence required to set up a powerful restaurant bookkeeping system takes lots of experience in both restaurants and bookkeeping.
The restaurant industry is a tough business. Proper bookkeeping can make the difference between the success and failure of your restaurant.
There is no time or room for error to deal with a bookkeeper that is going to "figure it out." You need to be dialed from day one to run a tight and profitable restaurant.
The bottom line
Hiring a good restaurant bookkeeper is not an easy process. This is why hiring a restaurant bookkeeping team of experts can be the best way to go.
Are you ready to get on board with your new restaurant bookkeeping partners and take the pressure and liability off of you and allow you to focus on the growth and management of your restaurant?
Get started by scheduling a financial consultation of your business.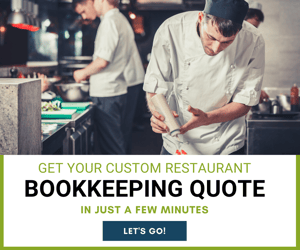 6 Qualities of Bookkeeping Experts
[Original post date: 12/10/2015] Comments in the comment section may be dated before the revised publish date of this article.