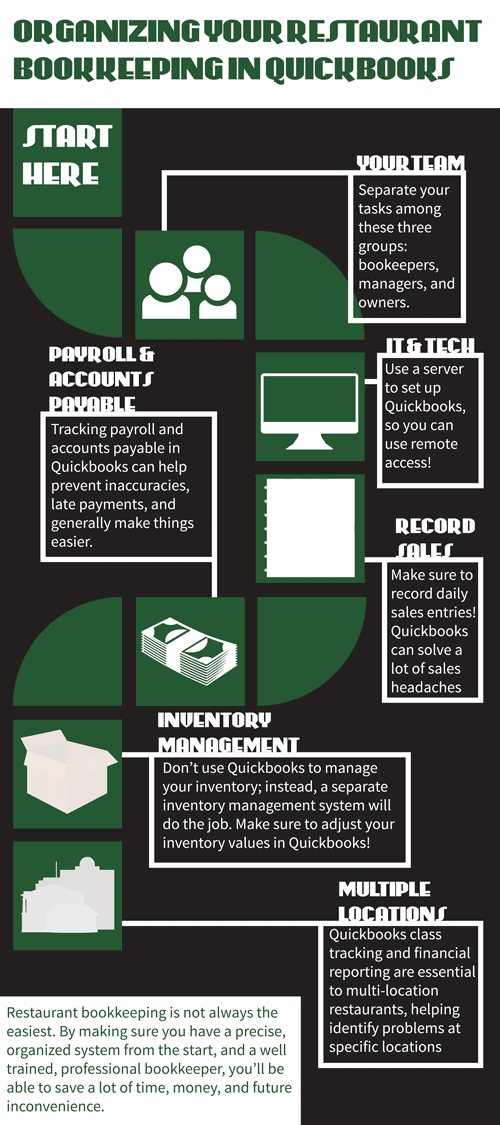 QuickBooks is a pretty popular choice for the restaurant bookkeeping needs of restaurants around the country. However, Intuit does not have a version specific to the restaurant industry, so QuickBooks has to be customized to meet your needs. You can select a restaurant as the type of company you're setting up in the QuickBooks beginning interview, though. Let's list the other modifications that should be made to Quickbooks to make sure that your restaurant is set up correctly.
Task Delegation
First off, who is involved in the decisions and who should have access with what abilities?
Restaurant Owners - owners should be the only people with the ability to sign checks, pay bills, or move money across different accounts. There are a couple reasons for this, but the most important one is that allowing the bookkeeper access to cash is an opportunity for theft. Owners should also approve payroll.
Bookkeeping Team - bookkeepers should be entering transactions, bills, daily sales, and verifying deposits. They should also be doing regular reconciliation of the accounts. They should not be handling any cash.
Restaurant Managers - restaurant managers should handle cash deposits. The bookkeeper will verify the cash deposits versus sales records while doing their tasks. The managers should also be focused on regulating your inventory of food and beverage. Lastly, the managers should be verifying hours and submitting payroll to the owners for review and approval.
QuickBooks Install
The program should be set up on a server that gives multiple employees access to QuickBooks at the same time without interfering one another. This is especially helpful for restaurants in multiple locations so there can be a central location where bills, invoices, and paperwork are stored and shared.
Daily Sales Journal Entries
Like the name says, daily sales must be recorded daily. The simple answer as to why is this: the verification of bank deposits. Even if card transactions are being pulled every couple of days, the actual sales of the day need to be recorded. This is a record that the amount being deposited into the bank on a daily basis matches the amount that has been sold on that day. If there are gaps in the amount sold as to the amount deposited, there's a problem.
Read More